British driver Lewis Hamilton looks forward to next week's Grand Prix of Spain as he hopes to score his maiden win in this country.
The 2008 F1 World Champions has scored three consecutive wins so far this season in his Mercedes W05.
Hamilton failed to score point only in the season-opener in Australia after he suffered an engine problem early in the race.
Hamilton has failed to win the Spanish Grand Prix in his seven previous appearances.
"It's been good to have a bit of a break between races: for us as drivers and also for the team who have been working flat out for so many weeks," Hamilton declared.
"After three great weekends in Malaysia, Bahrain and China I'm obviously keen to get on to the next one and continue that positive momentum into the next leg of the season. Barcelona is a great place to have the first European round on the calendar. It's a circuit we all know very well - although this is the first time in my F1 career that I have raced there without testing at the circuit during the winter," Hamilton added.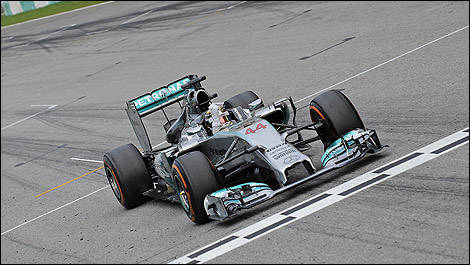 Lewis Hamilton, Mercedes W05. (Photo: WRi2)
"Aside from being the first European race of the season, Barcelona is classically seen as the first big milestone for upgrades from the teams and we can expect to see quite a range of developments throughout the pit lane," Paddy Lowe, executive director at Mercedes AMG said.
"The circuit itself is highly demanding on the cars: arguably requiring the best combination of power, handling and aerodynamics seen during the entire season. It's often said that a car which performs well in Barcelona will be a great car for the season, so we're looking forward to seeing where we stand relative to the competition", Paddy Lowe explained.