From GMM
Susie Wolff is "nervous" but "ready" as she prepares to break a long F1 drought this week.
At Silverstone, the 31-year-old Scot will be the first female driver in more than two decades to take part in an official grand prix weekend.
She will be driving the Williams in Friday morning practice, and intends to use the opportunity to prove she is up to the task of joining the grid in the near future.
"What is most important for this session is the team," Wolff, whose husband is the Williams team shareholder and Mercedes chief Toto Wolff, told Austria's
APA
news agency.
"But I am also ambitious. This is my chance to show what I can do. It's an opportunity not many get and as a woman I've had to work even harder to earn respect. This is a super, super chance. I have to show what I can do," she insisted.
"I'm nervous, but you need that adrenaline," Wolff said. "Honestly, I'm ready. The Barcelona test prepared me perfectly. Everyone thinks I need to show if I am fast, but I'm not going to go on qualifying runs. I am part of the team and I will do my programme just as Valtteri (Bottas) would have. It's very important for me to return the car in one piece and not twenty!"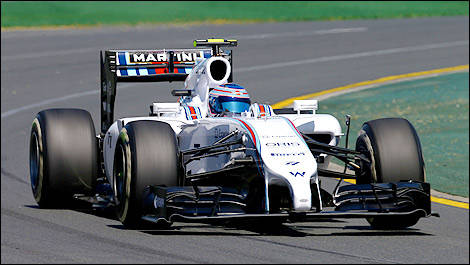 Williams FW36-Mercedes. (Photo: WRi2)
Wolff, who most recently raced in the German touring car series DTM, admitted it is her goal to eventually call herself a formula one race driver.
"Clearly," she confirmed. "But it's not easy -- I'm realistic. It's a struggle because there are so many other talented drivers who are fighting for the same chance."
Suzie Wolff does, however, see a couple of things in her favour.
"Teams want lighter drivers," she told the
Daily Record
newspaper a few days ago, "which counts in women's favour, and physically we are catching up on the men.
"You need to be the complete package and bring in the right amount of sponsorship," Wolff added. "It would be a great marketing ploy to sign a woman, so you never know. The whole culture of the sport is changing and there are more female engineers and bosses. It's a great time to be a woman in motor sport."