Twenty years ago, the Williams Formula 1 team tested a CVT transmission in its stunning Renault-powered FW15 Formula 1 car.
A continuously variable transmission (CVT) is a belt transmission that can change steplessly through an infinite number of effective gear ratios between maximum and minimum values. This contrasts with other mechanical transmissions that offer a fixed number of gear ratios.
It also maximizes the performance of a vehicle by allowing the engine to turn at the RPM at which it produces peak power.
The problem for using such technology in racing cars was the difficulty of finding a strong enough belt to transit the 850 horsepower from an F1 engine. Eventually, the Williams' engineers found the suitable hardware and fitted the innovative transmission to the back of a test car.
Team test driver David Coulthard drove the car on a wet July day at Pembrey in Wales.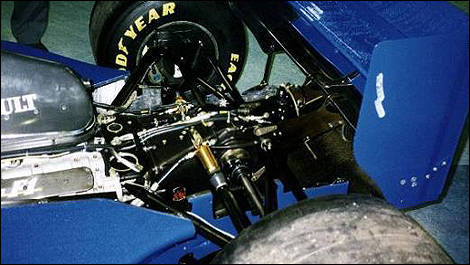 Williams' CVT transmission (Photo: Williams)
Williams' CVT FW15 car sounded revolutionary different to contemporary F1 cars because of the different way it used the engine. Instead of the revs rising and falling with each corner they remaining constant through each bend.
There was also speculation that it had instantly proved several seconds per lap quicker than the conventional Williams -- which was already miles ahead of its rivals.
That led the FIA to stipulate that, from 1994, F1 cars had to have between four and seven fixed gears -- and for good measure added a sub-clause specifically banning CVT. So the car was never actually raced and eventually found its way to the museum.