Auto123.com met with Red Bull Racing team principal, Christian Horner Friday at circuit Gilles-Villeneuve in Montreal. Here's what he had to say about the first six races of the 2014 season.
The start of the season has been tough for Red Bull Racing. What was a main reason for that?
"The big deficit is with the Power Unit. Guys at Renault are working very hard to close that gap down. We're approximately 60 bhp down at the moment, which is big, but we will work hard at closing this deficit. As a team, this is frustrating, because it is not our responsibility. However, we've made an awful lot of ground in recent months, and if we keep that rate of development, things will be looking good," Horner told Auto123.com.
"We enjoy our relationship with Renault, Unfortunately, they found themselves on their back foot with this new regulation. We've won 8 world championships with Renault. Hopefully, they will close the gap. Renault cannot be in F1 just to make up the numbers. Yes, Mercedes has done a super job. They invested early in the program and they are ahead of Ferrari and Renault. It's up to the competition to catch up", Horner explained.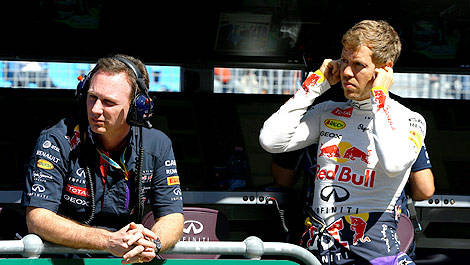 Christian Horner and Sebastian Vettel, Red Bull Racing. (Photo: WRi2)
The Briton gave us some additional information about the technical problems the team is facing since the start of the season.
"It's all comes down with integration of the turbo, the combustion engine and energy recovery system. The challenge is to get these three components to work as unison. We have supported Renault with software development and integration in the chassis. Fuel development was also important, and Total has done a good job for us," Horner told us.
The early season has also been quite difficult for four-time World Champion, Sebastian Vettel.
"It's been a tough start to the season for Seb. You can see that he is getting more and more confortable in the car. He's very sensitive on how the car behaves under braking. With this new brake-by-wire system in the car, he had problems reading what the car is doing," Horner concluded.