Thinking that some modern good ol' boys, (never meaning no harm), would be interested in the new Dodge Charger, some wahoos at SEMA this year decided to create a two-door version with the obligatory
Dukes of Hazard
paint scheme.
Trouble was, they got the wrong Dodge.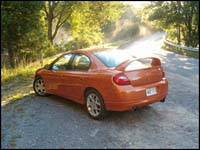 2005 Dodge SRT-4 (Photo: John LeBlanc, straight-six.com)
With Chrysler already showing off its new Dodge Caliber compact at auto shows, it's time to bid
adios
,
au revoir
--and most accurately,
auf wiedersehen
--to one of the most successful and affordable amateur racing cars of all-time, and still one of the biggest bang-for-the-buck deals out there: the Dodge SRT4.
Coming into this world with a big "Hi!" plastered on its cute little econobox face, the Dodge SRT4, nee Dodge SX 2.0, nee Dodge Neon, nee Plymouth Neon, nee Chrysler Neon, is leaving this world with a big "Bye, Bye!"
The first Neon was a cute, front-wheel drive Civic-Corolla fighter with a 132 horsepower, 2.0-litre four banger. Add ten years, and oh, about an additional one hundred horsepower later, and the 2005 SRT4 version can now claim to be the second fastest acelerating current production Chrysler vehicle, right behind the Viper.
When launched in 1994, grassroots racers quickly realized the potential for cheap, on-the-track-fun. Chrysler's Mopar group supported this enthusiasm with the introduction of the Neon ACR (American Club Racer), which was targeted at Sports Car Club of America (SCCA) racers, helping Neon drivers win consecutive national in SCCA Class C Showroom Stock titles from 1995 to 1997.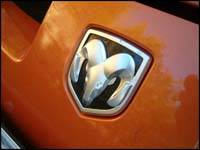 2005 Dodge SRT-4 (Photo: John LeBlanc, straight-six.com)
Introduced in 2003, the Dodge SRT-4 is based on the second-generation Neon model that came in January 1999 as a 2000 model. 2004 model SRT4s received added power and the Quaife limited slip differential option. The end-the-line 2005 models added my tester's Orange Blast as an exterior colour, aligned with the monstrous rear hoop spoiler and gaping Viper-mimicking front grille, witness protection program participants may want to take a pass on this decidedly dangerous looking Dodge.
In case you've had your head buried in the latest edition of Hybrid and Driver, the SRT badge means this econobox has been heavily made over by the racing nuts at Chrysler's Street and Racing Technology labs--a group who are also responsible for such tasty items as the said Viper, and SRT editions of the Crossfire, RAM, 300C, Magnum and Charger.
SRT's motto is to develop vehicles with the best performance for the best price, for which its smallest member does not disappoint on.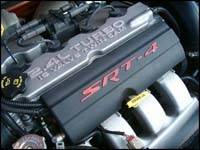 2005 Dodge SRT-4 (Photo: John LeBlanc, straight-six.com)
The SRT4's turbocharged 2.4-litre four, grounds out 230 horsepower--more importantly--it also grunts out 107 more pound-feet of torque than an Acura RSX Type-S ($33,000). Under six second 0-100-km/h runs, under 15 second quarter-mile times and a top speed of 240 km/h, take care of the performance bragging rights. And the $27,545 base price means the SRT4 is still the best performing new production car for under $30k.
If you like the SRT4's near race car performance, just be prepared for the near race car noise that comes along for the ride. And I'm not talking about the optional Kicker/SRT Livin' Loud Sound System ($975).
Idling at a stoplight, loafing down the highway, smoking the Civic SiR in the next lane--whatever--this thing is loud and proud.