DETROIT, Mi -
For General Motors, it's been a time of ups and downs. Following the recent announcement that the
Camaro's production would be moved from Oshawa to the U.S.
, Kevin Williams, president of GM Canada told press that while he thinks moving the Camaro is a mistake that will contribute to the decline of the Oshawa plant, the high cost of doing business in Canada makes it difficult for the company to show a profit.
Claiming that Canada is the "highest-cost producer for General Motors anywhere in the world" Williams believes that some concessions from the labour unions are in order if they're to continue producing vehicles in Canada, and prevent more work being relocated to cheaper labour markets such as Mexico.
Such a decision is sure to rankle taxpayers who contributed billions to the bailout -- but Williams said that the company has honoured all of its required commitments federally and provincially.
Despite the 2009 bankruptcy restructuring, the struggle isn't over. GM's Canadian market share fell to its lowest point ever at 13.5%, a 6.6% drop from last year.
At a media event held in Detroit's historic Whitney House, Williams told assembled Canadian press that GM's new mantra is "Finding New Roads."
"We lost our way for a while," Williams said. And while the company is headed in the right direction, "we're not quite there yet." Williams is confident that better price restructuring, a current crop of highly competitive cars and the release of their new pickup trucks should help bolster sagging sales.
And yet Williams -- and indeed General Motors, overall -- seems to exude an air of optimism. The
Cadillac ATS
winning the coveted North American Car of the Year trophy accounted for some of that, but there was a sense that the North American auto industry in general was on its way back -- the Truck of the Year also being won by the Ram, another domestic product. Williams was unable to contain his enthusiasm for the ATS.
The most anticipated reveal of the show, the Corvette C7, generated a buzz that attracted most of the 6,000 media in attendance to its packed unveiling. It's being touted as the best, most technically advanced and fuel efficient Corvette in history, worthy of resurrecting the Stingray nameplate.
Also unveiled before a throng of media, the
Cadillac ELR
, a Volt-like hybrid, made its NAIAS debut.
"We're going back to what we do best," Williams said to the Canadian media. "And that's make good cars."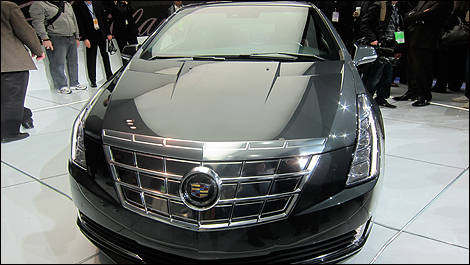 Photo: Lesley Wimbush