DETROIT, Mi -
There was a lot of buzz leading up to the Detroit Auto Show about Inifiniti's new nomenclature: All vehicles, henceforth, will be badged "Q" for sedan and "QX" for crossover followed then by a size-indicating number. If that seems like a move from Audi's playbook, that could be because President Johan de Nysschen came to Infiniti via the German car company.
The new badging helps to further separate Infiniti from parent company Nissan. It's also an attempt to solidify their position as a luxury brand in markets such as Europe and China, where Infiniti is not as recognizable as the German marques. Of all the Japanese brands, Infiniti probably boasts the strongest European character when it comes to driving dynamics -- a feature that should serve them in their pursuit of that market.
Although photos were leaked on the internet prior to the show, Infiniti's new Q-ship was revealed on the Detroit stage amid much pomp and circumstance complete with a flashy performance by Cirque du Soleil.
Based on the
Essence concept
, the
Inifniti Q50
is the first vehicle to wear the new badging.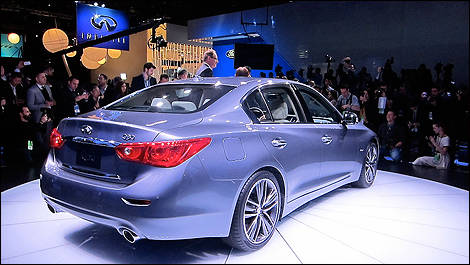 Photo: Lesley Wimbush
Described as having a "tight, athletic appearance," the Infiniti Q50 bears more than a passing frontal resemblance to the Lexus GS. Crisp, wavy character lines and bulging fender flares create visual drama, and the swept-back roofline suggests fluid movement. Like most of its ilk, however, the Q50 is deep and rather heavy looking.
The waves continue into the interior, which boasts aluminum trim "inspired by Samurai swords" and maple wood that's apparently representative of 16th Century Urushi painting. The driver-centric cockpit features an 8" infotainment touchscreen.
Available in either rear, or all-wheel-drive, the Infiniti Q50 has the same wheelbase as the previous G37. Underhood is the 3.7L, 328 hp carried over from the G27, or Infiniti's Direct Response Hybrid System consisting of a 3.5L V6 combined with an electric motor to produce 354 hp. Both are mated to a 7-speed automatic transmission with manual mode. Unlike most of its competitors, there is no available 4-cylinder option.
The Infiniti Q50 features two world firsts: Direct Adaptive Steering, a drive-by-wire system that, using digital controls, Infiniti claims is far faster and more responsive than traditional mechanical linkages. The driver can choose from four different settings depending on personal preference. And Active Lane Control uses a camera-based stability system to detect crosswinds and road deviations, keeping the Infiniti Q50 on course.
Pricing isn't available yet, but should be announced when the Inifniti Q50 arrives this summer.