Over the years, my parents have had the luxury of riding in a number of different vehicles from all walks of segments. From Bentleys to Nissans, BMWs to Fords, they've been in them all. My father has even tried a few of the models he's always wanted to drive. He's not a massive auto enthusiast, but he likes a powerful, well-built machine as much as the next man.
He's also a bit of a truck fan, but he's never owned one in his life. He dreams of one day driving an
F-150
that'll tow his horses (yes, he's actually got four), and perhaps the donkeys too (yup, he's got four of those, as well). When it's not towing his animals, he'd use the truck for bales of hay and yard work.
Currently, Mr. Lightstone drives a white
Nissan Rogue
. To be fair, the Rogue is not actually his, it's my mother's (her vehicle and colour choice). He's sure to point that out as often as he can.
So, on his lofty dreams of one day owning a truck, I offered him the opportunity to live with a pickup for the day while I was over to handle some heavy-duty yard work he'd been putting off for quite some time. The workhorse in question? A
2013 Nissan Titan Crew Cab
.
Now, being a Nissan man -- my father has owned five Nissans over the past 10 years or so from a Sentra to the Rogue -- he was immediately pleased with the Titan. Following are his reactions to the truck life.
"First impressions: Nice-looking truck. Appeared to be very large... As it turned out, looks are not deceiving. I am close to six-feet and the running boards were a welcome feature. Once seated inside the truck, I thought: 'What an easy transition for a long-term Nissan owner.' The console was very familiar -- windshield wiper and light controls and familiar console all in place. There was also tons of room in the cab."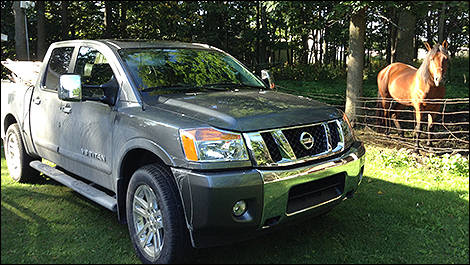 Photo: Miranda Lightstone
This is something my father constantly brings up about pickups: their size. He loves the idea of towering over everyone else on the road. It's not just a superiority thing, but I think also a confidence thing. There's something about piloting a vehicle that's larger than everyone else; you know you'll get at least a bit of respect.
And the fact that the Titan was familiar was another huge bonus for him. I think that's important to note for anyone considering a pickup for the first time. It can be intimidating to drive a vehicle that large, but if you feel a little bit "at home" you'll have an easier time adjusting to the vehicle's size. So, if you're a long-time Chevrolet owner, consider looking at the
Silverado
; Toyota owners look to the
Tundra
, and so on.
"I tried an F-150 briefly; the cab felt like it was rolling from side to side. The Titan felt firm and tight (doors closed with precision), and it had a car-like feeling (accurate, nimble handling -- it drove much smaller than it is). The acceleration seemed a bit slow, but thankfully, the brakes showed the strength to meet the horsepower once underway."
Besides threatening my job, this reaction from my father also made me smile. Trucks drive like, well, trucks. I've driven enough over the years that I'm used to it. However, for a none-truck-driver, like my father, it can be disconcerting to experience that disconnected feel between the cab and the road that's common with pickups.
The strong brakes my father mentioned were no doubt Nissan's Electronic Brake force Distribution (EBD) system that reads additional weight and sends extra power to the rear as needed.
"The short cargo bed was found wanting. I would expect to at least fit a standard 2x4 in it given a truck this size. However, I loved the bedliner, which doesn't chip or scratch. Even with a fully loaded bed with old construction materials, hauling the load had no noticeable effect on the Titan's power. Even driving on rough terrain leading up to the dump was a surprisingly comfortable riding experience."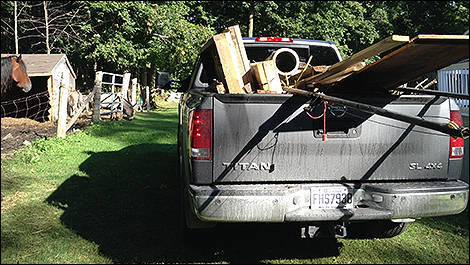 Photo: Miranda Lightstone
Because the Nissan Titan my father drove was a Crew Cab, it had the shorter bed (just over 5.5 ft). While there is an available long bed with the Crew Cab, the shorter bed is standard with that set-up. Essentially, that was his only complaint and mostly due to the work he was trying to do with it.
This is an important consideration for future truck buyers: What will you be doing with your truck? Will you need the length or just the towing capabilities? Is a liner necessary? 4x4? Potential truck buyers really need to access their needs for the vehicle.
Overall, my father really enjoyed his short stint with the Nissan Titan, and with good reason. Besides qualms with the armrest (covering the seatbelt buckle) and the too-short bed, he had nothing but good things to say about his first-time truck experience.