Flex...ible!
Chip Foose, host of the American TV show
Overhaulin'
and one of the hottest car tuners on the scene, presented an all-new interpretation of Ford's upcoming urban crossover, the 2009 Flex. The unveiling took place at the 2008 Canadian International AutoShow (CIAS), in Toronto.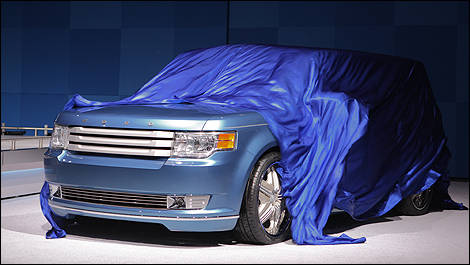 Ford Flex Foose
According to the automaker, the "The Chip Foose-designed Flex defines suburban luxury". In street-tuner talk, this means oversized Foose Design 22-inch wheels and Eibach springs customized for a lower appearance. The Foose Flex exterior features a custom-mixed, tow-tone blue and cream pearl paint job. Inside, this color scheme continues with three-tone blue, gray and tan premium leather.
The concept also stands out from the regular Flex thanks to the missing blue oval badge in the middle of the front grille. Indeed, the acclaimed customizer dared to replace the famous icon with simple FORD lettering (without serifs) spread wide across the front.
Custom front and rear fascias and rocker panels are enhanced by a custom wrap-around chrome beltline. The latter serves as a striking complement to the original Flex' chrome molding that frames the expansive greenhouse.
Additional exterior details like the color-coordinated door handles and the relocated license plate (on the liftgate instead of the rear bumper) also play a role in setting this Flex apart.
Chip Foose is quite proud of his latest creation: "I wanted to give it a more sophisticated look. I wanted it to look as if it came from Ford's design studio."
When I asked the new president of Ford Motor Company of Canada, Barry Engle, if a market-ready, limited-edition Flex Foose was in the plans, his only answer was: "It's a source of inspiration that help as we go forward to understand what could be done with the vehicle." Is that what people mean when they talk about "design
flex
ibility"?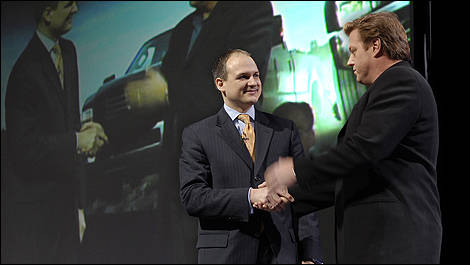 Barry Engel (left), the new president of Ford Motor Company of Canada, chats with the host of

Overhaulin

and creator of the Flex Foose Concept during the 2008 CIAS.