The bacon craze has managed to make its way into the automotive industry! In order to celebrate International Bacon Day on August 31'st, Ford unveiled its ''bacon-inspired' graphics for the
Fiesta
!
These new designs were approved by none other than the King of Bacon himself, Benton's Country Hams President, Allan Benton. A number of bacon-inspired decal options are available including (installation extra):
Full Bacon Wrap: 10 gigantic bacon strips that literally wrap-up the Ford Fiesta : $3,347 US;
Bacon Racing Stripes: racing-inspired hood decal: $191.25 US;
Side of Bacon: 2 individual strips that wrap around rear wheels: $318.75$ US;
Bacon Mini Strips: popular with weight-conscious drivers. Small strips that adorn front and rear fenders: $78.75 US.
Ford has not yet confirmed a Canadian-Bacon version.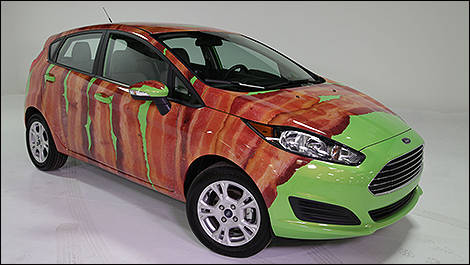 Photo: Ford