Northern Ireland's Eddie Irvine, a former Formula 1 driver and teammate of Michael Schumacher's at Ferrari, has been given a suspended six-month sentence following a nightclub clash that happened December 2008.
According to
Irish Times'
web site, Eddie Irvine and Gabriele Moratti, son of former Milan mayor and education minister, Letizia Moratti, were both handed the same punishment today, Jan. 9.
Witnesses in court have claimed the reason for the fight between the two was a text message sent by Irvine to an ex-girlfriend of Moratti.
The two men were then involved in a fight in the VIP area of the Milan nightclub and subsequently sued each other. According to European media, legal experts are already predicting the case will fall foul of the statute of limitations, due to expire at the end of 2015, when the case is declared null and void.
Eddie Irvine was a Formula 1 driver from 1993 to 2002, driving for Jordan, Ferrari and Jaguar. His hot temper was well known in the milieu, especially for his infamous verbal clash with Ayrton Senna at the end of the 1993 Japanese Grand Prix.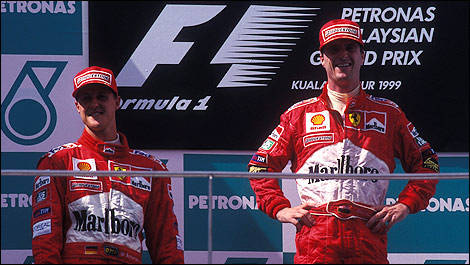 Eddie Irvine and Michael Schumacher, Ferrari, at the Malaysian Grand Prix 1999. (Photo: WRi2)