Alejandro Agag, CEO of the new FIA Formula E championship recently answered questions of fans and said there were major changes for the series in the works.
"In year two team will be allowed to build their own batteries and their own motors. They could build their own whole car if they want. But the regulations are quite strict and they don't allow a lot of development in aerodynamics, but they do allow development of the motor and the batteries. I would hope that we have three or four different makers of motors and batteries in the championship for year two," Agag said.
Williams Advanced Engineering makes the current batteries and the motor is supplied by McLaren Electronics Systems.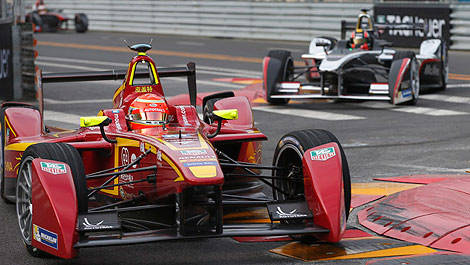 Photo: FIA Formula E
Alejandro Agag also talked about the battery life.
"We see wireless charging as one of the potential elements of the future in Formula E. Definitely battery development – new chemistry will bring the battery capacity to last longer. Maybe in three to five years, the batteries will last the whole race, but we may decide to stick with the current system, because we like it to keep two cars with twice the amount of power and go much faster, we will see what makes a better show, I think probably a combination of both will happen. The wireless charging can be static or dynamic. Imagine dynamic wireless charging – the whole track has dynamic pads under the surface, the cars just go we could do the 24 electric hours with this system," he explained.
Alejandro Agag confirmed that he wants to increase the number of races per season.
"Definitely yes, there are plans to go to more than 10 cities. Next year we will probably be in 12, and we want to grow slowly to get to a figure of around 18 races per year. We are talking to many cities. After Beijing we probably received requests from over 40 or 50 cities from all over the world to host a race, so that's been really positive. The number of entries is 20 because we race with two cars per driver, so to move 40 cars around the world is already a lot. But I think when the batteries will last longer; we go down to just one car per race. We would then add two other teams, so that would be a total of 24 drivers," Agag said.