Mazda finally introduced the new CX-5 crossover today at the 2011 Frankfurt Motor Show. Benefiting from the brand's Skyactiv technology, the future rival of the Honda CR-V, Toyota RAV-4, Mitsubishi RVR and Jeep Patriot should land in dealer showrooms early in 2012.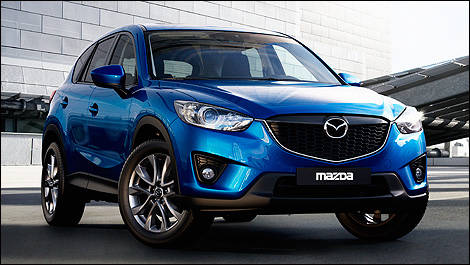 Photo: Mazda
When it does, consumers will have a choice of a 2.0-litre, 4-cylinder gasoline engine producing 121 horsepower or a 2.2-litre, 4-cylinder turbodiesel offering two different output ratings – 110 hp/280 lb-ft of torque or 128 hp/309 lb-ft).
The former reportedly burns 5.0 L/100 km while the latter makes do with a meagre 3.7 L/100 km. These incredible numbers will no doubt catch the attention of compact SUV/CUV buyers looking for significant fuel savings.
The 500 litres of cargo space (with the rear seats up) might haunt the CX-5, however. Most competitors in this segment offer much greater capacity.
Right now, Mazda plans to sell the CX-5 in Europe only, but several rumours have the model crossing the Atlantic in the near future.