Some are calling it the "Chinese
Chevy Volt
." GAC calls it the E-JET concept. So what is it exactly, and who is GAC?
Guangzhou Automobile Company (GAC) started out as an automotive components manufacturer and is currently the sixth-largest car manufacturer by volume in China.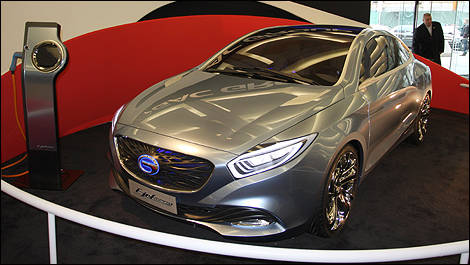 Photo: Nauman Farooq
They currently produce sedans and SUVs which, on some models, feature platforms taken from Alfa Romeo and Mitsubishi. GAC also has ties with Toyota, Honda, Hino, and at the 2013 North American International Auto Show, announced that it has signed a deal with Fiat SpA (parent company of Chrysler Group LLC) to produce Jeep models for the Chinese market.
However, GAC came to the show with more than just news about their corporate connections. They also wanted to show a new car called the E-JET.
This attractive plug-in hybrid features a permanent magnet electric motor which has a peak output of 95 kW. Coupled with its 13 kWh lithium-ion battery back, this vehicle has a range of over 100 km on a full charge.
When you run out of battery power, a 1.0L, inline 4-cylinder engine will spin a 30 kW generator to take you the rest of the way home. So, it's designed to very much be a range-extended electric vehicle.
According to GAC, the E-JET will hopefully qualify for a fuel consumption rating of just 1.9L/100km, which is much better than a conventional hybrid.
While not a sports sedan, GAC claims the E-JET can sprint from 0-50 km/h in 4.5 seconds, and has a top speed of 160 km/h.
One of the nemeses of gas-electric vehicles has been weight, because they have to carry components for both drivetrains. However, GAC has used lightweight materials where possible (aluminum body panels, lithium-ion battery) to keep the weight down. Hence, at 1,550 kg, the E-JET is 175 kg lighter than the Volt. However, the E-JET shown in Detroit is just in its concept stage, so specifications might vary if and when it hits the production line.
The car on display at COBO Hall is a very early prototype, hence the company officials didn't want to open the doors for shots of the interior saying: "It's not finished."
Speaking of doors, it does have rear-hinged back doors, very much like a
Rolls Royce Phantom
. Will these features make it to the production model? Dr. Xiangdong Huang, GAC Group Vice President of Research and Development did mention that the production car will look quite different from this concept, but did not elaborate any further.
GAC is hoping that the production E-JET will hit the market in China this fall.
Considering this company already has a four-wheel drive, hybrid sedan called the Trumpchi 4X4 Hybrid, and a fully electric SUV called the BEV Trumpchi GS5 which has a 160-km range, GAC seems well on its way to becoming a leader in electric and hybrid vehicles in its homeland.
As for when GAC will start selling its vehicles in North America? Huang said, "Hopefully (by) 2015… but we are not sure."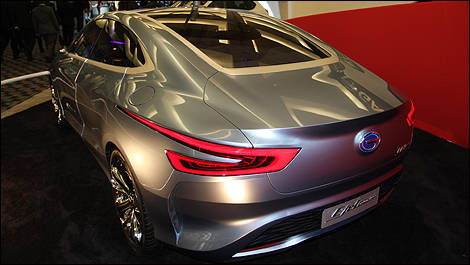 Photo: Nauman Farooq