As reported by Historics at Brooklands
A 1959 Cadillac S&S ambulance rescued from a Church in Maryland, USA, after being read it's last rights, has undergone a miraculous restoration as a tribute to the iconic Ghostbusters movie car, and is now being auctioned at Historics at Brooklands forthcoming sale on 25th September.
Having previously been fettled for use in Church parades – including having its roof removed - coachbuilder Chris Reynolds saved the car from a 'fete' worse than death, and has since spent £65,000 turning it into one of the most sought-after promo and private-hire vehicles in Europe.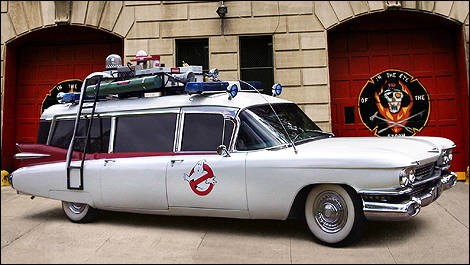 Photo: Historics at Brooklands
Weighing in at a mighty 2.55 tonnes, the massive American motorcar measures 20ft long by 6.5ft wide and powered by a mighty 6.5 litre V8 engine, manages approximately 8 mpg!
Whilst the car's exterior represents a faithful recreation of the 1984 film car - including identical logos and roof props – 'Ecto 1's interior has been designed as a luxurious
limousine
, benefiting from a £7,000 refit that includes three leather-clad bench seats designed to transport suitors in style.
Chris Reynolds commented: "The car's ghostly presence is in stark contrast to the real life experience of bringing it back to life - and the cost of doing so!  The car was about to be scrapped when I discovered it and the restoration has been a real labour of love, and hopefully it will find a worthy home."
Capable of generating significant returns if utilised for private hire, the Ghostbusters car represents a real investment opportunity in more ways than one, and is expected to fetch offers in the region of £75,000 - £85,000 at Historics second sale on September 25th.