The words 'Chevrolet Cruze' and 'recall' in the same sentence is undoubtedly enough to cause instant headaches at General Motors HQ. You might recall that the first generation of the model has been the subject to a disconcerting number of recalls, to the point where sales of the model has even been halted temporarily.
The second-generation Cruze made its debut in 2016, accompanied no doubt by many crossed fingers at Chevrolet. The operative word among automotive experts and for consumers was: caution.
After three years on the market, a recall has just been issued, affecting some 112,000 vehicles. The recall applies to LS models built between 2016 and 2018, which are not equipped with spare tires but instead carry a tire inflator kit. A rear-impact collision involving these models has a greater risk of causing a fuel leak. The great quantity of potentially leaking fuel in turn causes a greater risk of fire.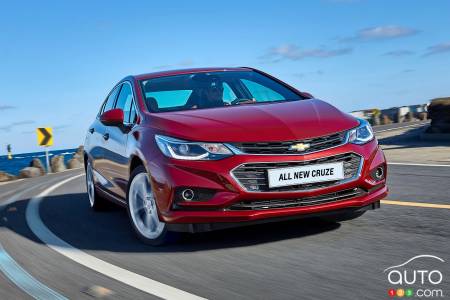 The increased risk of fire in the affected models was discovered by GM during internal testing.
GM service centre technicians will install as lock ring on the fuel tank to protect the vapor pressure sensor in the event of a rear-impact collision.