There are those occasional news items that create equal parts confusion and amusement. Like the one about Honda restoring an old… Chevrolet pickup. How so? Why?
And yet it's true. To mark its 60 years of existence in North America, the Japanese automaker set about restoring a 1961 Chevrolet Apache 10 truck.
As it happens, I own an identical Chevy truck from that era, so the story caught my eye big time.
There is actually a perfectly logical reason for this initiative by Honda. When the company first set up shop in North America, it acquired a fleet of Apache 10 pickups to use as delivery trucks of motorcycles to Honda dealerships. Within a few years, by 1965 to be exact, the company was selling more motorcycles than anyone else in the United States.
That's a remarkable success story, and for Honda the Chevy trucks represent one of the tools that allowed it to write that story.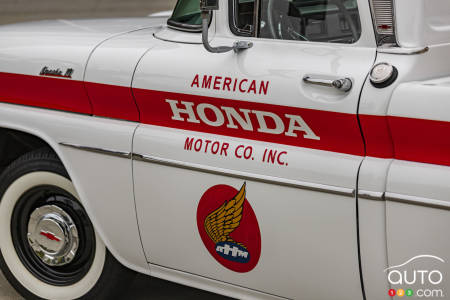 Small detail worth explaining: Honda is marking 60 years on our continent, meaning it set up shop in 1959 – and meaning that any Apache 10 trucks it acquired could be 1960 models, no later. In fact, Chevrolet revised the model in 1960, and the 1961 edition was virtually identical to it. What's more, the hood with its larger front nostrils was only features in those two years.
For Honda, the main thing was to restore a product as similar as possible to the one used for deliveries back in the day. The company dug up archival images and even called on former Honda workers to advise on the exterior elements of the pickup, right down to the hand-created logos.
To add icing to the cake, Honda placed two old motorcycles on the restored truck's bed. In case you're wondering, the models are a 50 and a CB160.
The restored Honda-badged Chevy truck will go on a promotional tour over the next few months, before it finds its permanent home in the Honda collection located in Torrance, California.