For the 2013 model year of the famed Accord, Honda is serving up a choice of three powertrains, including two North American premiers: a new direct injection 2.4-litre and a plug-in hybrid system, both part of Honda's Earth Dreams Technology group of engines.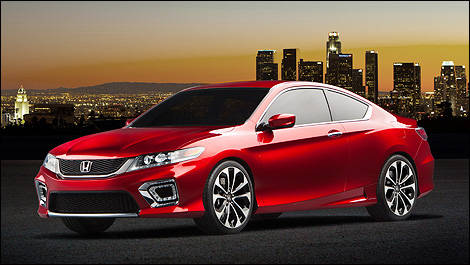 Photo: Honda
Visually, the Accord Coupe looks to be about the same size as the outgoing model, while the sedan seems more compact and athletic than its previous iteration.
The latest Accord can be powered by Honda's new direct injection 2.4-litre 4-cylinder i-VTEC, which promises greater fuel economy and more power with its 181 ponies and 177 lb-ft of torque.
The 2013 Accord Coupe and Sedan will be the first to feature a 120-kW plug-in hybrid system. The eco-friendly version reportedly has a range of 15 to 25 km in electric mode as long as drivers don't exceed 100 km/h. The battery can be recharged in less than 4 hours on a standard 120-volt outlet and just 1.5 hours with a 240-volt charger. In hybrid mode, the car is powered by a fuel-efficient 2.0L inline-4 combined with an electric CVT. The Accord Hybrid will hit dealerships next winter.