Pontiac's version of the extremely popular Chevrolet Equinox SUV will be in Canada's Buick-Pontiac-GMC dealers soon, and the Torrent will have the same basic appeal as its sibling.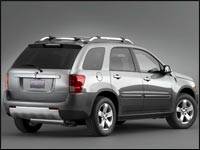 2006 Pontiac Torrent (photo: General Motors)
That is to say, Torrent is larger and more comfortable than the compact SUVs it's priced against (such as Ford Escape, Honda CR-V and Toyota RAV) and comes with a nice range of equipment for the money.
The base front-wheel drive model will have an MSRP of $26,585 and the base all-wheel drive model will be $29,195.
GM of Canada calls Torrent Pontiac's "first" SUV, but that status hangs purely on the slimmest semantic hook, that being that the discontinued Pontiac Aztek was not an SUV.
Whatever it's status in the history book, will be built in the GM-Suzuki plant in Ingersoll, Ontario, and be powered by a 3.4-litre V-6 assembled in China.
As GM of Canada's marketing manager for crossover utilities and small vans, Santo Giardina is naturally enthused about all of the products he has to sell, but the Torrent looks like it might be closer to his heart than some of the others.
"We are setting a new benchmark in the small SUV segment," he claims. "The new Pontiac Torrent delivers true SUV capability coupled with Pontiac-bred styling and handling. Additionally, Torrent has rear seat room that leads the segment and one of the most flexible and functional interiors in its class, accommodating large items such as ladders or kayaks up to 2.43 m (or eight feet for you measurement Luddites) in length."
Standard features include five-passenger seating, 16-inch aluminum wheels, air conditioning, power door locks with remote keyless entry, power windows, six-speaker CD stereo, flat-folding front passenger seat for longer cargo items, fog lamps, electric power steering, dual-stage frontal air bags, and a goodly selection of GM Accessories available from launch.
Available options include leather-trimmed seats and steering wheel, heated driver and front passenger seats for cloth or leather seats, power-adjustable driver seat, 17-inch aluminum wheels, CD/MP3 stereo with six-disc CD changer and subwoofer, power sunroof and OnStar.
Many of these features, Giardina points out, are extra-cost options or simply not available on other brands in the segment.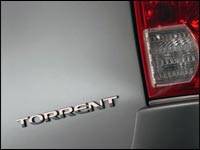 2006 Pontiac Torrent (photo: General Motors)
Powering the Pontiac Torrent is a 3.4-litre V-6 producing 185 hp at 5,200 rpm and 210 lb.-ft. of torque at 3,800 rpm mated to a five-speed automatic transmission.
Giardina likes to point out that all Torrent models come with GM's FE2 Sport Suspension package, which sets it apart from Equinox. He says it has been "tuned specifically to give drivers the expected Pontiac performance."
For everyday driving, "Torrent's capabilities are most apparent in its clever and useful features," says Giardina, who points first to the multi-adjustable rear seat. "It can provide segment-leading legroom for rear-seat passengers when moved rearward, or increase the length of the cargo area by nearly a foot when moved forward."
The rear seat also reclines, providing more space. Also, the Torrent has the widest rear door openings in its segment, making entry and exit of both people and cargo easier.