After unveiling its next-generation NEXO fuel cell electric vehicle concept at CES 2018 last month, Hyundai has just announced that its prototype had successfully completed a first 190-km test run between Seoul and Pyeongchang, the site of the upcoming Winter Olympic Games in South Korea, at speeds of up to 110 km/h.
This represents the first time in the world that a fuel cell vehicle has completed a level 4 autonomous drive. Two autonomous Genesis G80 sedans also took part in the road test, which involved lane changing and passing manoeuvres as well as transitions via toll stations.
Barring any major delays, level 4 autonomous Hyundai vehicles will start to be deployed in selected markets in 2021. As for fully autonomous level 5 models, the automaker hopes to be ready to launch them by 2030 – a target date it believes is possible thanks to a new association with Aurora Innovation, an American firm specialized in the domain.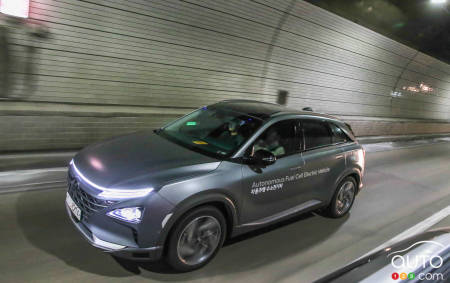 "Hyundai's philosophy for developing autonomous driving technology is to provide the highest level of safety combined with a high standard of convenience that our customers expect."

- Jinwoo Lee, head of the Intelligent Safety Technology Center at Hyundai Motor Group
The interior of the vehicles in question is largely similar to Hyundai models already on the market, with the obvious addition of various camera and sensor systems. Freed from the task of driving, occupants can devote themselves to other activities, such as monitoring what's going on at home and controlling some of its systems (locks, lighting, heating, security camera, etc.) via the Home Connect system. They can ask questions to the "Assistant Chat" feature, which displays answers in text or image form, benefit from therapeutic and health services (heart-rate and stress-level monitoring, for example) or even indulge in a little karaoke via a special application.
The fuel cell powertrain of the Hyundai NEXO represents an ideal platform for integrating self-driving technologies, which due to the high volume of data they produce require ample and stable amounts of electrical power to ensure components function properly; fuel cell systems provide the needed energy without impacting vehicles' range (over 600 km in this case with a full tank of hydrogen).