Hyundai, reaffirming its intention to bring to market no fewer than 18 new low-emission models by 2025, has unveiled its future hydrogen-powered SUV at the 2018 Consumer Electronics Show (CES) in Las Vegas. Meet the NEXO.
Replacing the Tucson FCEV, the appearance of which on the market was limited to a few North American pockets like California and the Vancouver area, the Hyundai NEXO is a second-generation fuel cell vehicle with a maximum range of 595 km, or 170 more than the Tucson FCEV, as well as improved power (161 hp) and torque (291 lb-ft). These numbers add up to acceleration that's nearly 25% better than the Tucson FCEV. Built on its own dedicated architecture, it is also lighter and roomier inside, the new, more-compact components requiring less space for themselves.
The efficiency of the NEXO was tested and confirmed during testing at extreme temperatures; starting the engine after a night outside at -28 degrees proved no problem. Perhaps even more impressively from the point of view of consumers, Hyundai claims the car's new hydrogen tanks can be filled in less than five minutes.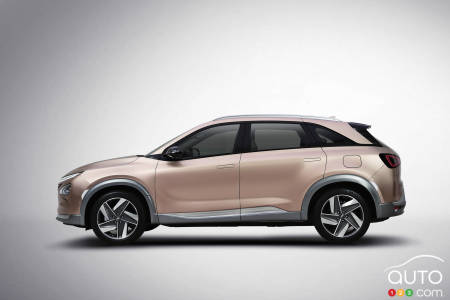 Advanced safety
Given its position as the technological flagbearer for future Hyundai models, the NEXO sets the safety bar at an unprecedented new level. For example, cameras provide views of blind spots on both sides of the vehicle when the turn signal is activated – a first in the industry. A lane-following assist system controls steering to keep the NEXO in the centre of its lane, even at speeds of up to 150 km/h.
The innovations don't end there: a highway driving assistant automatically adjusts speed to ensure greater safety in limited environments, while a smart remote parking system means the car can park itself.
Towards autonomous driving
During the current CES 2018 in Las Vegas, Hyundai made a joint announcement with Aurora, an industry leader in autonomous vehicle technologies, regarding a partnership aimed at delivering driverless (Level 4) Hyundai vehicles to market by 2021. The NEXO will in fact be the first model used when testing gets underway this year.
The vehicle's fuel cell powertrain represents an ideal platform to implant autonomous driving technologies, which require an enormous amount of electricity to convey the large quantities of data involved and ensure that various components, like sensors, continue to function. A hydrogen fuel cell vehicle can provide a stable and sufficient amount of electrical power, without any impact on its range.