A recent finalist for an Auto123.com award for Green Vehicle of the Year, the Hyundai IONIQ is a compelling solution for Canadian consumers in search of an attractive, energy-efficient and affordable car.
The IONIQ is, you will recall, the first vehicle in the world to be offered in hybrid, plug-in hybrid and all-electric versions all built on the same platform. We detailed for you the features and Canadian pricing for the IONIQ hybrid and electric models in 2017, after having road tested the new model. Now, as promised by the South Korean automaker, the plug-in hybrid edition arrives to join the lineup. And, as brightly advertised on Hyundai Canada's website, the model is getting the "Electric plus" designation.
Why that moniker, you ask? We've got the lowdown…
The new model is not a better-equipped electric IONIQ, nor one with a longer range; rather it is actually a plug-in hybrid that can be driven up to 47 km on electric power alone. Beyond that, the combustion engine kicks in, the car functioning like a traditional hybrid, and it becomes possible to drive about 1,000 km on a single tank of gas. In the view of Hyundai, the "plus" means that consumers get the best of two worlds.
Under its highly aerodynamic shell, the model features a new 1.6L 4-cylinder engine with direct injection, wedded to a dual-clutch transmission. The electric motor, for its part, is fed by an 8.9 kWh lithium-ion polymer battery. Total power output is 164 hp along with 195 lb-ft of torque. In addition, an "ECO" assistance system analyzes road and itinerary data using the GPS system in order to plan for climbs and descents and thus better manage the battery and regenerative braking. Total fuel consumption ratings have not yet been made public for the Electric plus model.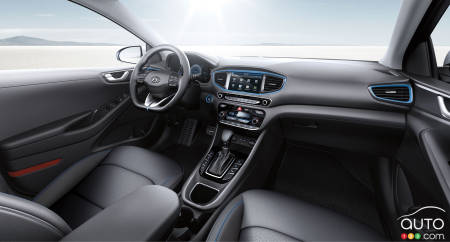 Standard equipment in the 2018 Hyundai IONIQ Electric plus includes an 8-inch multimedia screen display with Android Auto and Apple CarPlay compatibility, heated front and rear seats, heated steering wheel, LED daytime running lights and unique 16-inch wheels, not to mention proximity keyless entry and wireless smartphone charging. Blind spot detection and rear cross traffic alert systems are also included.
As for pricing, Canadian consumers can choose between two versions: the SE starting at $31,999 and the Limited starting at $36,499. The latter trim comes with LED headlights, a power sunroof, leather seats and advanced safety technologies like autonomous emergency braking with pedestrian detection, adaptive cruise control and lane keep assist.