Auto123 reviews the 2023 Hyundai Elantra Hybrid.
Don't look now, but the Hyundai Elantra has slowly risen up the ranks in the competitive compact sedan world – yes, the segment does still exist – to the point where it is nipping at the heels of perennial segment leaders like the Honda Civic and Toyota Corolla. Only of those offers a hybrid powertrain to compete with our tester. It's heady territory for the Hyundai, even in a diminished segment.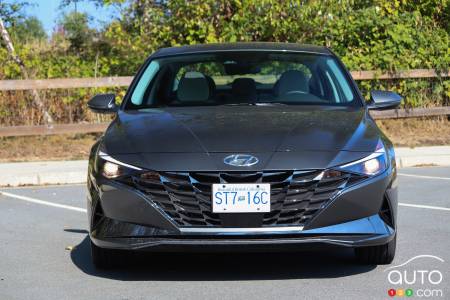 Styling of the 2023 Hyundai Elantra Hybrid – 8.5/10
Of the three, the Elantra is the best-looking. The Corolla has some uniqueness thanks to its aggressive headlight lenses and the way the grille inhabits the bumper but the Honda – even in sporty Si form – is bland.
The Elantra flashes V-shaped hood creases, a large origami-esque grille and a set of aggressive headlight lenses of its own, whose corners give the impression it's got some stylized eyebrows. On the sides we find more edgy creasing on the doors and rear quarter panel, as well as some two-tone ninja-star 17-inch alloy wheels. Admittedly, those seem a touch small since they're surrounded by such broad body panels; alas, short of opting for the N Line model, they're as big as you're going to get.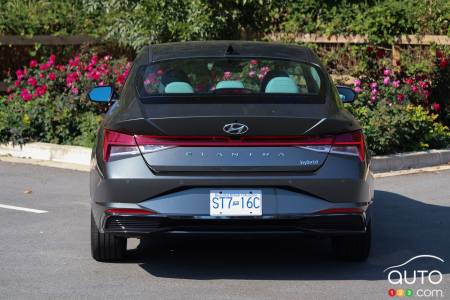 The rear fascia, meanwhile, gets a cool 3D look thanks to the way the leading edge of the trunk and its lower section face inwards; I'm also a big fan of the font used for the big "Elantra" scripting across the rear deck. Add a full-length light bar that ties it all together, and you have a modern, low-slung overall look that does well to mimic the futuristic Ioniq 5 EV and is a cut above your typical compact sedan.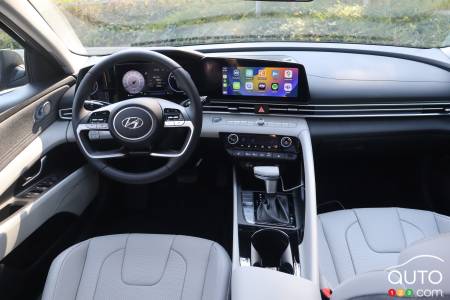 Interior of the 2023 Hyundai Elantra Hybrid – 7.5/10
The beat goes on inside. We find smooth, broad surfaces that contribute to a feeling of airiness that adds an air of luxury to the environment. The wheel spokes take some getting used to, but the digital gauge cluster, wide 10.25-inch touchscreen display (standard on our Luxury tester; Preferred and Essential models get an 8.0-inch display) and centre stack keeps traditional hard buttons, but arranges them is such as way that clutter is reduced.
The Audi-esque shifter is the icing on the cake; all Elantras get it, but it takes upgrading to Luxury-spec (the only trim available for the Hybrid) to get leather seating. The fabric draped over other surfaces such as the door cards and seatbacks adds a bit of funk and coziness at the same time. It's pleasingly low on cheap, scratchable plastics in here and the lighting is such that it feels much more luxurious than its compact sedan classification would suggest.
I do worry a little about the amount of light colours in here; if you plan on transporting soggy kids regularly, you may want to consider a darker interior.
So why not a higher score? It's a question of space.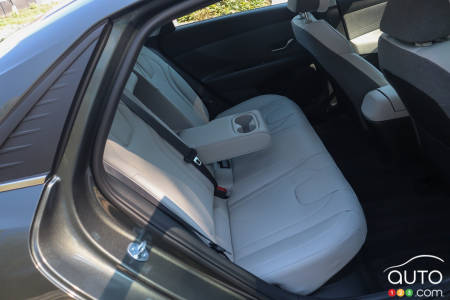 Now, this is a compact car so no one's expecting limousine-like legroom or headroom but even still, I would have liked more headroom. My forehead just sat too close to the top of the windshield for my liking and coupled with the low cowl (and the great view out that provides), it does feel like you're sitting a little high. Luxury trim means there's also a sunroof, which cuts into headroom even more.
At 402 litres, trunk space is pretty good (and the same that you get in the non-hybrid). But it's deep, so that does cut into back seat legroom a little. Kids probably won't mind though, and I suspect most Elantra owners will be happy to have that extra space to load their wares, rear seat legroom be darned.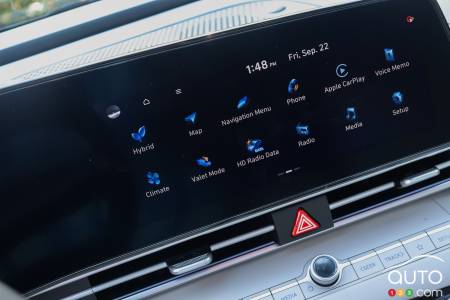 Technology in the 2023 Hyundai Elantra Hybrid – 7.5/10
All Elantras come standard with heated front seats, high beam assist, lane-departure warning, Apple CarPlay/Android Auto and plenty more but upgrading to the Preferred adds a heated wheel, while the Luxury brings in adaptive cruise control, Bose audio and wireless charging.
But the lack of wireless apps is a bummer and even though we do have a digital gauge cluster, Hyundai's ingenious blind spot view camera (whereby the two main gauges get replaced by a blind spot camera when a turn signal is activated) is not available. Guaranteed it will be when the Elantra gets refreshed next year.
It also loses of marks for just how tame the system's graphics are. The native menus are dark and made to look even more so in contrast with the bright gauge cluster (which gets two different styles depending on drive mode) and the icons are small and fiddly. We recently drove the latest Hyundai Kona and it gets an all-new infotainment system that's faster and sharper.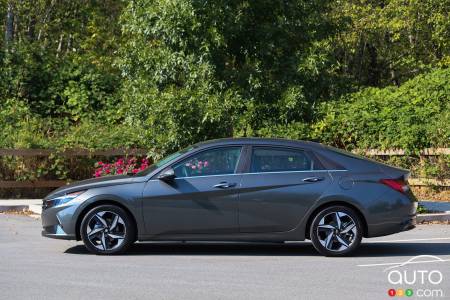 Driving the 2023 Hyundai Elantra Hybrid – 8/10
Power for the Hybrid comes courtesy a 1.6L 4-cylinder naturally aspirated engine plus a 32-kW electric motor, good for 139 combined hp and 195 lb-ft of torque, sent to the front wheels via a proper 6-speed dual-clutch auto transmission (no CVTs here, which is fine by us).
Power comes on smoothly when in hybrid mode, the DCT not displaying the kind of jerkiness often associated with transmissions of this type. You feel that torque pull you along when both the gas and electric motors are on boil, which is great for freeway passing, accelerating through intersections and so on. And, when at low parking garage speeds, you can get by on solely EV power for a limited time if you have the juice. The result? After our 100 km test on the highway and in town we saw a sterling 4.7L/100 km, without breaking a sweat and with all the required creature comforts switched on. That's bloody good.
Also very good is the steering, smooth and linear with enough dead zone to not have you constantly correcting on the highway but with just the right amount of responsiveness to not feel aloof. The smooth steering is complimented by an incredibly smooth ride; you feel a low centre of gravity, the Elantra exhibiting very little body roll through everyday turns and so on. And the way it absorbs bumps caused by cracked city concrete indicates Hyundai's thinking that if they're going to offer a cockpit full of creature comforts, they had better back it up with the ride. Which they have done, to a degree unlike anything else I've driven in the segment.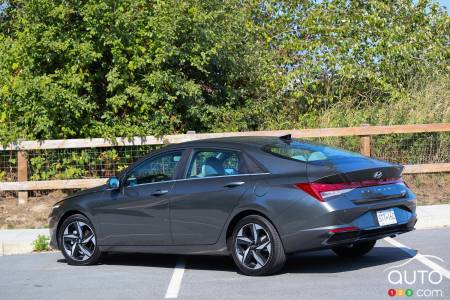 The Elantra Hybrid does less well in terms of its gas-only operation. The engine note is harsh and makes its presence felt too readily. Activating Sport mode only compounded the problem since it holds on to revs for longer, so you get even more of that grating engine note without much change in terms of performance. Needless to say, I stuck mainly to the Normal and Smart modes during my test.
Some of your questions about the 2023 Hyundai Elantra Hybrid
Sometimes a hybrid powertrain means losing folding rear seats to fit the battery. Is that the case here?
Not at all; in addition to losing no trunk space to the standard Elantra, the rear seatback splits 40/60 by pulling one of two trunk-mounted levers.
Does the Elantra Hybrid get additional warranty coverage?
In addition to Hyundai's standard five-year/100,000 km warranty, the Hybrid's battery gets an additional 8-years or 160,000 km.
The final word
The Elantra Hybrid is so well sorted in almost every other way that you can forgive it that grating engine, and even that snug front seat. The ride, handling, efficiency and interior accoutrements are top-grade and indicative of a car company knowing what it takes to succeed in a hotly contested segment, and achieving those goals.
It may not drive quite as sporty as it looks and there are some foibles, but the bottom line is the Elantra is a great car to climb into, great to look at and great to come back to. It has come a long, loooong way.
Strong points
Efficient hybrid powertrain
Top-quality interior
Impressive ride that punches above its weight class
Weak points
Harsh gas-only operation
Outdated tech
Snug front seat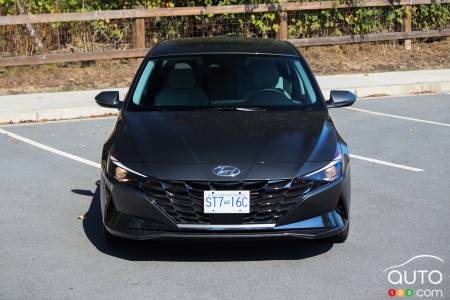 Competitors of the 2023 Hyundai Elantra Hybrid
Honda Civic
Kia Forte sedan
Mazda3 sedan
Nissan Sentra
Subaru Impreza sedan
Toyota Corolla Hybrid sedan
Volkswagen Jetta Hybrid