Far from the lights and bustle of the Geneva Motor Show on now, Hyundai has released a few details and images of its all-new 2020 Hyundai Sonata. This represents the 8th generation of the Korean automaker's midsize sedan, and the sleekness factor has been increased noticeably.
The model actually incarnates Hyundai's new design language, called "Sensuous Sportiness", and it is possible to discern in its exterior lines some influence of the company's Le Fil Rouge concept, seen as a number of auto shows over the past year, starting in Geneva last year. You could almost say that the next Sonata has transformed into a 4-door coupe.
What else do we know at this point? Hyundai was sparse with the details, but did specify that both the overall length and the wheelbase length have been increased in comparison with the outgoing Sonata, by 44 mm and 35 mm respectively. The car also sits lower to the ground (by 30 mm) and is wider (by 25 mm). In other words, more coupe-like. That stretched wheelbase does imply the cabin will be roomier. All of this is in keeping with the overall trend of models getting bigger with each passing generation.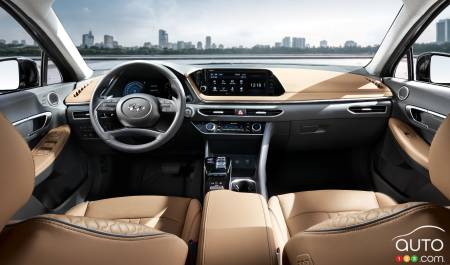 Hyundai has reworded the interior space as well, and we expect it to be a more refined environment than before - again, in keeping with the industry trend. Expect leather seating, satin chrome accents and ambient lighting.
Another feature promised by Hyundai is the ability for future Sonata owners to use their smartphone to lock and unlock the doors and otherwise communicate with the car, this via an app they can download.
Hyundai will present the 2020 Sonata in the flesh at the New York auto show next month.