Infiniti unveiled the Emerg-E concept this week at the Geneva Motor Show, offering new technologies the PR folk promise will be adopted in the brand's "quest to build dramatic and sustainable high-performance cars." It's the brand's first high-performance, mid-ship sports car, and the first Infiniti developed in Europe.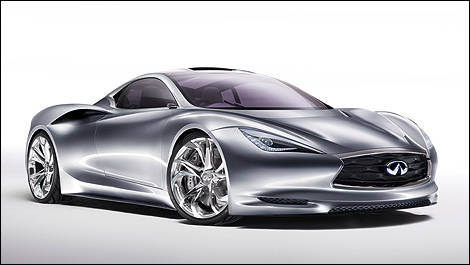 Photo: Nissan
The Emerg-E concept features a lithium-ion battery pack for the twin electric motors driving the rear wheels; they offer up 402 bhp and acceleration from zero to 60 of a mere 4 seconds. The two-seater can operate on electric-only power up 50 km before the range-extending three-cylinder gas engine kicks in.
It's definitely a slippery-looking design, free of the huge cooling apertures a kickass internal combustion engine would need. With Infiniti trending towards smaller cars and four-cylinder engines over the next few years, it looks like a production version Emerg-E is destined for halo status.