Potentially 10,000 lives could be saved every year following a new proposal by the U.S. government to require automakers to offer electronic stability control (ESC) as a standard feature.
The idea, put forward by the National Highway Traffic Safety Administration (NHTSA), is to mandate all manufacturers to begin equipping passenger vehicles under 10,000 pounds with ESC starting with the 2009 model year and to have the feature available as standard equipment on all vehicles by the 2012 model year.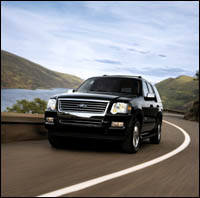 (Photo: Ford Motor Company)
Almost 29 percent of all 2006 models (57 percent of SUVs) include ESC. Ford announced Wednesday that its AdvanceTrac system will be made standard across the entire lineup by the end of 2009, while General Motors will do the same thing for the end of 2010.
Stability control dramatically reduces the risk of sliding off the road, rolling over or being involved in a collision. Actually, the number of fatal crashes is 30 percent lower with ESC-equipped cars and 63 percent lower with such SUVs, according to the NHTSA.
Using electronic sensors, ESC constantly monitors a vehicle's actual path against its intended path (based on driver input). If they don't match, the system works in milliseconds by braking individual wheels and/or reducing excess engine power, often without the driver even knowing it.
While NHTSA spokewoman Nicole Nason called this technology "the greatest life saving improvement since the safety belt", Nissan North America's director of product safety, Robert Yakushi, argued it "shouldn't be characterized as a cure-all for all handling situations" and it might "build overconfidence in the driver".
Indeed, nothing replaces your awareness and carefulness.