A Nissan spokesman has confirmed that the world debut of the new 2016 Nissan Titan will take place at the North American International Auto Show in Detroit next January.
While the outgoing model boasts a 5.6L V8 engine and 5-speed automatic transmission, sources say the next-generation Titan could offer three engine options including a gasoline-powered V6, an upgraded version of that same V8, and a 5.0L Cummins diesel V8. A 7-speed Jatco JR711E7 autobox may be in the cards for the first two.
The V6 will probably be a more powerful (275 hp) variant of the 4.0L unit that currently motivates the Nissan Frontier, while the diesel engine may generate up to 330 hp.
Of course, further details will come out as we get closer to the NAIAS.
Source : trucktrend.com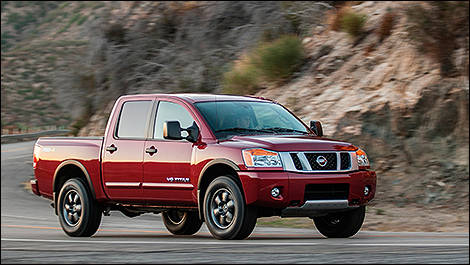 Photo: Nissan