Jaguar proudly showed off their sleek 2010 XK lineup at the Montreal Auto Show today, highlighting the updated styling and engine lineup that will move the brand forward.
2010 Jaguar XK
Fans noted the subtly tweaked fascias, LED taillamps and color-keyed side vents. The rotary gear selector from the XF finds its way to the centre console, too.
The big buzz, though, surrounded the revised engine lineup. All models get a five-liter V8 that shares virtually nothing with the outgoing 4.2 liter unit. The new 'AJ-V8 Gen 3' engine gets variable valve timing and a variable intake system for optimized performance and mileage.
The new engine uses the increasingly popular direct-injection fuel delivery system towards the same goal.
Available horsepower is rated at either 385 in standard trim or 510 for the supercharged 'R' model. That's up from 300 and 420 in the previous models, respectively. Drivers can expect 0-60 in the mid four-second range with the supercharged engine on board.
The updated XK range is expected to hit dealerships this summer.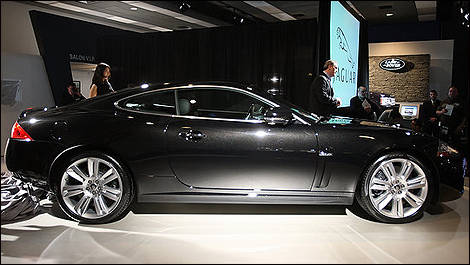 2010 Jaguar XKR
photo:
Philippe Champoux, Matthieu Lambert
2009 Jaguar XK Series