As reported by Aston Martin
Gaydon, U.K.
Ahead of the RM auction of the only remaining
James Bond DB5
that featured in both Goldfinger (1964) and Thunderball (1965) which sold yesterday for just under £3 million, two iconic Aston Martins have been captured together for the first time. The
DB9
, now celebrated as the most successful Aston Martin of all time, echoes the passion for design, engineering and craftsmanship which characterised the secret agent's company car.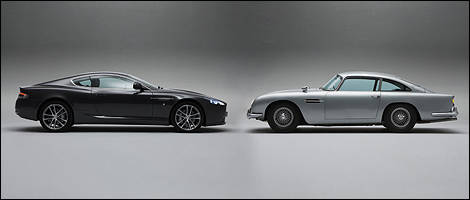 Photo: Aston Martin
Held in private ownership for some 40 years, 'the most famous car in the world' was one of two DB5s which appeared on screen in both films. The car originally used in Goldfinger for driving scenes, was retrofitted with the famous gadgets including passenger ejector seat and front wing-mounted machine guns by Aston Martin in preparation for its second on-screen appearance in Thunderball.
The DB9, now in its seventh year of production, remains a design icon and is regarded by many as the most beautiful sports grand tourer on sale today. Just like the DB5 – the luxury zeitgeist of the 1960s, the DB9 is hand-tailored to customer specification and uses the latest technology.
The DB9 is based on Aston Martin's unique V/H (Vertical/Horizontal) architecture – a bonded aluminium understructure forming the lightweight yet incredibly strong platform integral to the current range of sports cars. In much the same way, the DB5 used modern technology of its time employing aluminium body construction to help reduce weight in 'Superleggera' form. Aston Martin continues to use state of the art manufacturing techniques and hand-craft skills to create the most emotive cars on the road today.
To date, since its introduction in 2003, 15,000 DB9s have been built at Aston Martin's global headquarters in Gaydon, Warwickshire, surpassing the DB7 as the most successful Aston Martin of all time.
These unique images show the revised DB9 new for 2011, in the aptly named Quantum Silver paint finish together with the actual car from the 1964 film. The optional paint is the same colour as the DBS that featured in the film Quantum of Solace in 2008.
The DB5 with the revolving registration plate 'FMP 7B' was sold for £2,912,000 ($4,608,500) at RM Auctions yesterday to an American bidder who plans to display it at his private collection in Ohio.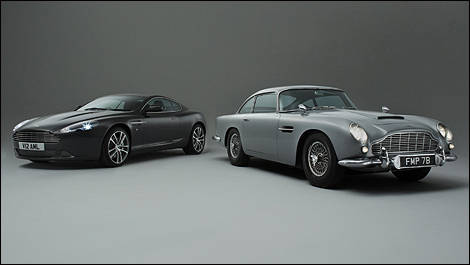 Photo: Aston Martin