As reported by Aston Martin
Aston Martin today announced the availability of the
V12 Vantage
at the brand's USA performance driving course. The V12 Vantage joins Aston Martin's award winning line up of sports cars, which includes the DBS, the Rapide and the V8 Vantage, on hand for participants to drive on the exhilarating and dynamic tracks of the Michigan Proving Ground during the one day instruction based course.
The Aston Martin Performance Driving Course gives prospective and new customers an opportunity to experience the dynamic capabilities of an Aston Martin in a safe yet exhilarating high speed environment. Since the course launched five years ago, hundreds of participants have attended the driving school in Michigan for a full day of one to one instruction on miles of track, which includes an alpine circuit, a high-speed oval and a mile straight runway.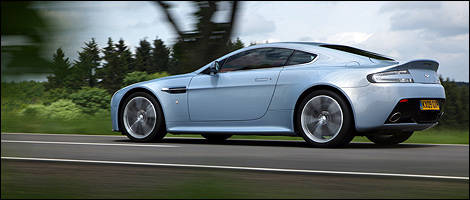 Photo: Aston Martin
The V12 Vantage is Aston Martin's most potent production sports car ever, benefitting from race derived technology and a powerful V12 Aston Martin engine producing the fastest and most agile sports car in the brand's line up. The V12 Vantage retails from $184,000 and with the recent announcement of a manufacturer approved lease program, the car is even more accessible to drivers looking for a unique combination of exclusivity and focused sports car performance.
Julian Jenkins "We are very much looking forward to offering customers and sports car enthusiasts the opportunity to drive the V12 Vantage, alongside our other award winning models. The V12 Vantage is a thoroughbred sports car and the miles of track covered at the course will give participants the opportunity to experience its capabilities during a thrilling day of performance driving."
The Aston Martin Performance Driving Course is open to all drivers over 18 years of age and holding a full license. The cost is $2,500 for the full day. For further details and bookings, please email
pdcusa@astonmartin.com
or visit
www.astonmartindrivingexperiences.com
.