Chelsea, Michigan -
While the original
Willys
Jeep was designed for Allied forces taking part in World War II, the new Jeep Wrangler "J8 Sarge" Concept celebrates the return of the legendary brand as a military outfitter. With this vehicle, Chrysler is sending a clear signal that it wants to take a chunk out of the lucrative market dominated in the United States by AM General, which is responsible for the famous
Hummer
.
The Jeep Wrangler "J8 Sarge" Concept will make off-road enthusiasts drool.
Developed by a team called Mopar Underground (engineers building prototypes outside of work hours), the Wrangler "J8 Sarge" was unveiled last April at the Easter Jeep Safari. This annual event is hosted by a group of Jeep enthusiasts known as the Red Rock 4-Wheelers. It all takes place in the rocky desert of Moab, Utah.
In June, we got a close look at this unique concept during Chrysler Group's 2009 vehicle presentation at the Chelsea Proving Grounds in Michigan.
Sir, yes, Sir!
This military-clad Jeep is built on the same long-wheelbase platform as the
Wrangler Unlimited
. In fact, the "J8 Sarge" Concept could easily have been a four-door SUV instead of a two-door pickup with a long box. The reality is this: the vehicle you're seeing here is actually a dressed-up, show-car variant of the Jeep J8.
Jeep... J8?
That's right. The company developed the J8 as a military-spec version of the new JK chassis (also used by the Wrangler Unlimited). It was introduced in September 2007 at London's Defense Systems & Equipment International Show. Designed as a non-combat military support vehicle, the J8 is strictly intended for the military -- reportedly in the Middle East.
Production takes place in Cairo, Egypt, under the supervision of Arab American Vehicle, a subsidiary of Chrysler LLC which has been manufacturing vehicles for civil use (CJ5, CJ6, CJ7, XJ and TJ-L) for about 30 years. For now, there are no plans to offer the J8 for retail sale in North America, especially since it does not meet current emission standards.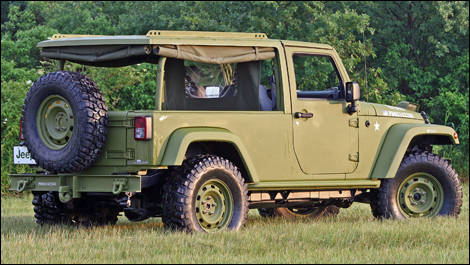 The "Sarge" is actually a functional show car designed to promote Mopar tuning accessories.