Three-time Indy 500 winner Helio Castroneves and GP2 driver Julian Leal each won a race at Juan Pablo Montoya's "Race of Stars", a fundraising kart race in the Columbian streets of Medellin.
Stars in attendance also included NASCAR's Joey Logano and Kurt Busch, and IndyCar's Carlos Munoz and Gabby Chavez, British magazine Autosport reported.
Leal, Montoya and Munoz formed the first podium; Castroneves, Logano and Chavez the second.
All the proceeds go to Montoya's "Formula Sonrisas" foundation (Formula Smiles), which purpose is to help underprivileged children through sport.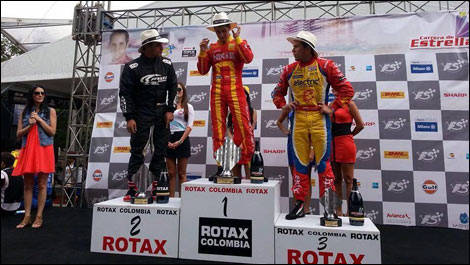 Juan Pablo Montoya, Julian Leal, Carlos Munoz. (Photo: Facebook)