Kia used the occasion of the Chengdu Motor Show in China to present a new electric SUV. The EV5 is scheduled to launch on the market there later this year, but its arrival here in North America remains uncertain for the time being.
In fact, nothing has been confirmed or denied.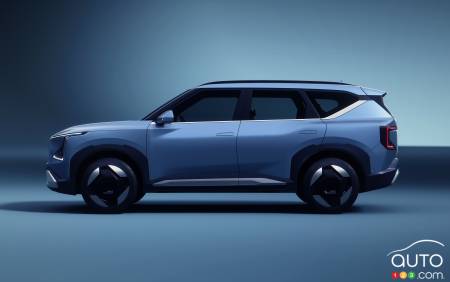 The production version is very similar to the concept first presented last March. It also bears a striking resemblance to the new EV9, which is about to debut in Canada.
Technical details are lacking for the moment. We do know the vehicle's format is similar to that of the Sportage. As for the platform, it's likely designed using Hyundai's E-GMP (Electric-Global Modular Platform) structure, which is modular and already serves the EV6 and EV9.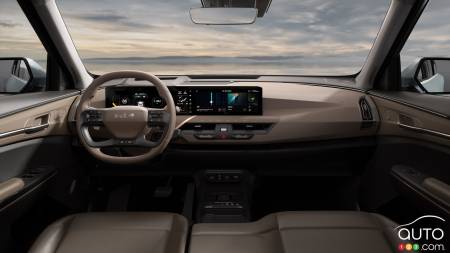 On board, we find a very clean and minimalist presentation, which is also in line with last March's concept. Kia promises "a vast interior space whose concept and execution are closer to the living room of a home than to the cabin of a traditional car".
As such, the ambient lighting, with 64 colours adjustable on a scale of 0 to 10, will enable occupants to create the desired atmosphere on board; the hook here is that it will change colour according to the chosen driving mode. It will also warn drivers when the vehicle is moving over the speed limit. Let's hope the system isn't so intrusive as to be annoying.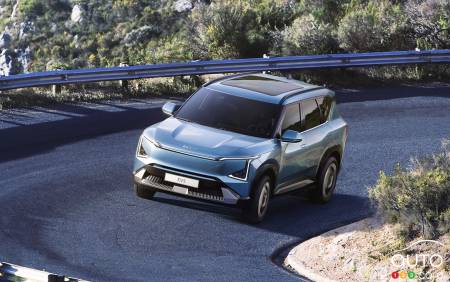 As for battery size, power and range, we'll have to be patient.
Kia is holding a day of events related to its electric products in October (Kia EV Day), and further information could be shared at that time. If the company intends to market this model in North America, we could learn a little more at that time. A product like the EV5 would be a direct rival to the Nissan Ariya and Volkswagen ID.4, among others.
Will the EV5 make it here? It's safe to assume so, not only because of its format, but also because Kia plans to introduce 14 electric vehicles worldwide by 2027. It will need to start introducing more models, and this EV5 seems tailor-made for our market.
More details to come this fall.