After unveiling the new Kia Niro Plug-in Hybrid in Los Angeles last fall, the South Korean automaker got to work on a new version of the model. This week at the 2018 Consumer Electronics Show (CES) in Las Vegas, the company presented the Niro EV Concept.
This Niro electric version is another step toward bringing to fruition Kia's ambitious plan to market 16 hybrid or electric vehicles by 2025, including a hydrogen-fueled car in 2020.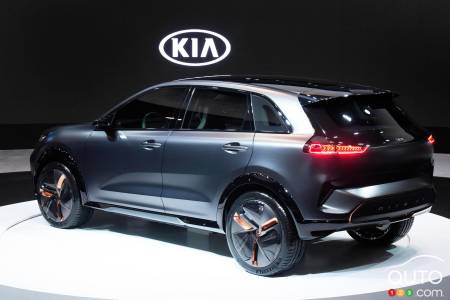 Sporting an interactive display panel in place of the front grille, the Niro EV Concept is more aerodynamically streamlined and features a digitally-minded, minimalist interior decor, the intention being to maximize relaxation and easy communication. A number of advanced safety technologies have been incorporated, for example an active pedestrian warning system that alerts pedestrians via speakers of the presence of an otherwise-silent vehicle.
The car features a next-generation electric powertrain under the hood, including a 150 kW (201 hp) electric motor and a 64 kWh lithium-polymer battery pack. Range is 383 km -- exactly the same as the current Chevrolet Bolt EV. We'll of course be keeping you up to date on additional details regarding the Kia Niro EV as it gets closer to production.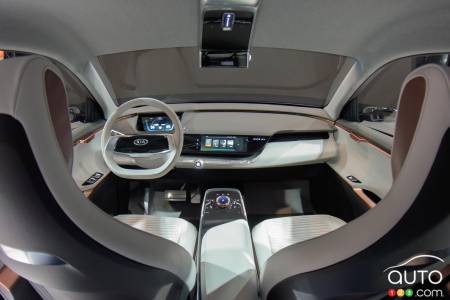 Kia has adopted what it calls a "boundless" vision of future mobility, wherein the car is no longer just a means of transportation, and developed the "ACE" action plan, which involves producing more Autonomous, Connected and Electrified cars over the course of the next decade.
At CES 2018, Kia actually presented several new autonomous driving technologies, which it intends to test on roads beginning in 2021, as well as the world's first 5G connection for cars.