The 2018 edition of the Consumer Electronics Show (CES) is underway in Las Vegas, and an early attention-grabber at the event is Chinese manufacturer Byton. The company introduced an autonomous-driving electric SUV concept, which it intends to bring to the American and European markets by 2020.
Byton's plan calls for a rear-wheel drive model fitted with a single 200 kW electric motor fed by a 71 kWh battery, which will provide a 400km range, as well as an all-wheel drive version powered by two electric motors (totaling 350 kW) fed by a 95 kWh battery, with a range of up to 520 km.
The exterior design of the mid-size SUV places it among the sleeker of its kind, and the vehicle also integrates cutting-edge innovations like cameras replacing the side mirrors and facial recognition cameras embedded in the B-pillar on each side of the vehicle for unlocking the doors.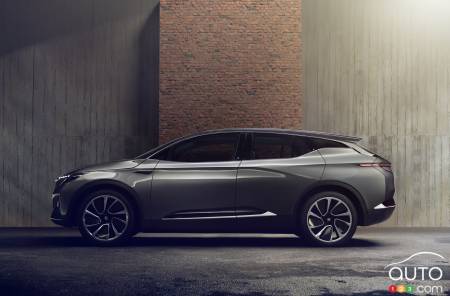 As for the airy, lounge-style interior, it lacks a central console, but has an enormous digital dashboard (49 x 9.8 inches in size), plus three additional screens. Functions are accessed mainly through voice recognition (via Amazon Alexa), touch and hand-gesture controls and cloud-based services (via ultra-fast 5G wi-fi connectivity). The vehicle is designed to adapt itself to its users' lifestyle and schedules.
Other striking elements include the wooden floor and leather seating: those in front can pivot 12 degrees inwards, and those in back are individually adjustable. Unsurprisingly, a number of personalization options will be offered.
Byton will be competing with GAC, which will reaffirm its intention to enter the North American market at next week's North American International Auto Show in Detroit by presenting some significant new products, as well as LYNK & CO (a subsidiary of Geely, along with Volvo), which aims to market its 01 utility model in North America by 2020.