Press release
Source: Lamborghini
On August 14, 2009, Automobili Lamborghini S.p.A. unveiled the limited edition
Lamborghini Gallardo LP 550-2 Valentino Balboni
for the first time in North America. Automobili Lamborghini president and CEO, Stephan Winkelmann, and famed Lamborghini test driver, Valentino Balboni, traveled from Lamborghini's headquarters in Sant'Agata, Italy to present the brand's newest super sports car to the affluent crowd of the Quail Motorsports Gathering in Carmel, Calif.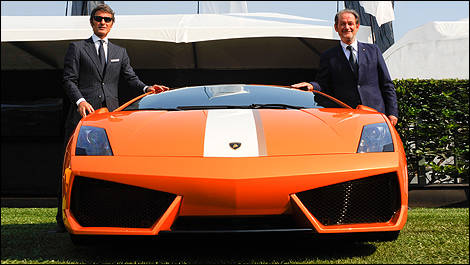 Lamborghini Gallardo LP 550-2 Valentino Balboni
"The two-wheel drive LP 550-2 Valentino Balboni offers a new level of excitement to the Gallardo range," stated Winkelmann. "As the most successful Lamborghini model, the Gallardo was natural choice for the first two-wheel drive Lamborghini in more than a decade."
This latest version of the Gallardo was designed to honor Valentino Balboni for more than four decades of dedication and loyalty to the Lamborghini brand. His fine-tuning and testing work has helped to shape many legendary Lamborghini models, from the Lamborghini Miura of the 60s through to the current
Gallardo
and
Murciélago
models. Lamborghini chose to tribute Balboni with a special and limited edition Gallardo, this model being the most successful in Automobili Lamborghini's history.
The Gallardo LP 550-2 Valentino Balboni was conceived in line with Balboni's own thinking, including the main features of the Lamborghini cars he tested throughout his career with both rear-wheel drive and a manual gear box. The LP 550-2 is the first Lamborghini equipped with a two-wheel drive system in more than a decade. As a limited edition model, there will only be 250 vehicles produced in eight different color combinations, each including a color strip in white and gold running from the front bumper to the rear spoiler.
photo:
Lamborghini