While every car enthusiast eagerly awaits the 2011 New York Auto Show and its numerous model debuts, Lexus took a lead over the competition by fully disclosing its all-new LF-Gh hybrid concept.
Working with a clean sheet of paper, Lexus designers set out to redefine the premium grand touring sedan with a perfect blend of style, performance, functionality, environmental compatibility and advanced new technology.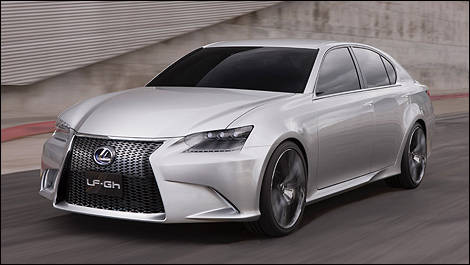 Photo: Toyota
An oversized grille, LED headlights, low-profile side mirrors and door handles, 20-inch wheels, aerodynamic shapes and massive wheel arches combine to redefine 'L-Finesse', the brand's design philosophy since 2001.
Inside, the cockpit features an instrument panel with excellent visibility and a console with intuitive manipulation. An all-new analog clock with a three-dimensional face dominates the field. And like any self-respecting luxury car, the LF-Gh makes extensive use of soft-touch materials.
The company gave few details about the concept's powertrain. All we know for now is that power from the hybrid system is transferred to the rear wheels.
The Lexus LF-Gh will be on display at the NY auto show from April 22 to May 1.