The new 2015 Hyundai Tucson Fuel Cell, which is scheduled to go on sale next spring in Southern California, made its debut today at the Los Angeles Auto Show.
More precisely, the Hyundai Tucson Fuel Cell will initially be offered to customers in the Los Angeles/Orange County area at $499 USD per month for a 36-month term, with $2,999 USD down. This may sound expensive, but it includes unlimited free hydrogen refuelling.
In addition, Hyundai Tucson Fuel Cell owners will enjoy all the same services of the Hyundai Equus "At Your Service" valet program. Should a Tucson Fuel Cell require any service, a Hyundai dealer will pick up the vehicle and provide a loaner, then return their car after service to their home or business, at no charge.
Hyundai also said that the Tucson Fuel Cell's availability will expand to other regions of the country consistent with the accelerating deployment of hydrogen refuelling stations.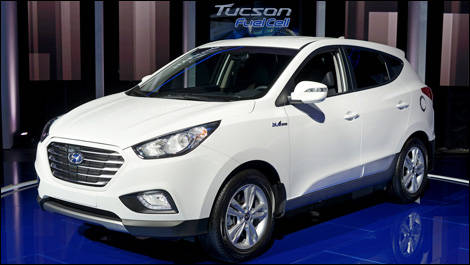 Photo: Hyundai