Jeep TJ has lowest lifetime energy cost
Hybrids may use a little less fuel on the road than many of the other new models, but they're really poor performers when you count their lifetime energy costs, and when it comes to which vehicles use the least energy it's wrong to judge a vehicle by its cover.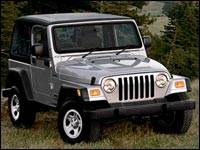 (Photo: DaimlerChrysler)
So, if using less energy of all kinds is important to you, there are more than 150 better choices than any hybrid available today, starting with the Jeep TJ (soon-to-be Wrangler).
This is the compelling finding of a comprehensive study by CNW Marketing Research of the lifetime energy usage of all the cars sold in the U.S. This study shows that popular hybrids such as the Ford Escape, Honda Accord and Civic, and Toyota Prius are at the back of the pack when you add up the energy necessary to plan, build, sell, drive and dispose of a vehicle from initial concept to scrappage.
Indeed, the study shows that those hybrids can cost society (if not their owners) three times more per mile in energy costs over the lifetime of the vehicle than many cars, trucks and SUVs of all kinds. Hybrid vehicles are even a lot more expensive than the same car with a traditional powertrain.
While the results are crafted from U.S. costs and wouldn't strictly apply in Canada, there's no question that the energy cost relationship between vehicles would be the same here.
(The Scion xB and Ford Escort actually get lower numbers than the Jeep TJ, but Toyota Canada hasn't seen fit to bring the former model to Canada yet and Ford of Canada stopped selling Escort some time back.)
The 20 vehicles with the lowest lifetime energy costs per mile (in U.S. dollars) are:
Jeep TJ (Wrangler): $0.604
Chevrolet Tracker: $0.694
Toyota Echo: $0.703
Saturn Ion: $0.709
Hyundai Elantra: $0.723
Dodge SX2.0: $0.728
Toyota Corolla: $0.732
Chevrolet Cavalier: $0.757
Pontiac Sunfire: $0.758
Chevrolet Aveo: $0.765
Mazda Protegé: $0.772
Chevrolet S10: $0.779
Ford Focus: $0.0803
Hyundai Accent: $0.840
Kia Spectra: $0.864
Mitsubishi Lancer: $0.872
Suzuki Aerio: $0.888
Nissan Sentra: $0.962
Kia Rio: $0.964
Ford Ranger: $0.968