Model:
Mazda3
: Used
Vehicle Type:
Compact sedan or hatchback
The Verdict:
The last-generation Mazda3 was loved for its upscale looks, sporty handling and fuel-efficient performance, but test drive your used Mazda3 candidate with an eye for potential clutch and transmission trouble.
Price Of A Used Mazda3:
Depending on mileage, condition and feature content, shoppers can find a used Mazda3 for as low as $10,000 for a higher-mileage 2010 model, with that figure climbing into the low $20,000 range for a loaded, low-mileage unit. Selection is plentiful in the low- to mid-teens.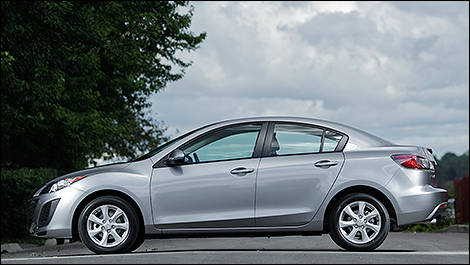 Photo: Sébastien D'Amour
What Owners Like:
Upscale styling, sporty handling dynamics, an upscale cabin, and a pleasant, easy-to-drive character were highly rated by owners of this generation Mazda3. Fuel mileage, especially on models with the SKYACTIV engine, was highly rated, as was versatility on hatchback models.

What Owners Dislike:
The grinning front bumper fascia, a small navigation system screen and limited rear-seat space were among the common complaints for this generation of the Mazda3. Others included tire noise, blind spots, and some easily scratched interior panels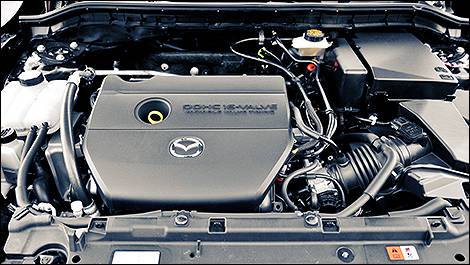 Photo: Matthieu Lambert

History/Description Of The Used Mazda3:
This second-generation Mazda3 advanced the popular model on all fronts and maintained both the sedan and hatchback offerings from the previous generation. Look for 4-cylinder, front-drive architecture all around. Engine choices included 2.0L and 2.5L gas units. Base GS models will have a 5-speed manual or automatic, while 6-speed transmissions in manual or automatic were found elsewhere on higher-end GS or GT models.
Note that from 2012 on, SKYACTIV technology fitted a high-efficiency 2.0L engine option as well.
Photo: Matthieu Lambert

Common Issues:
Shoppers considering a model with a manual transmission are strongly advised to check the condition of the clutch on a test drive by "feeling" for any signs of slippage or a "grinding" sensation when shifting gears. Numerous owners reported premature clutch wear, which isn't covered by warranty -- this issue looks most prevalent in 2010 models. This issue may stem from a faulty clutch master cylinder and lead to transmission problems.
Coax slippage from the clutch by applying full throttle at very low revs as a check. If any slippage is noted, move to another model.
A full inspection of the Mazda3's body and paint is also advised, in light of several reports of finishes and panels that are easily dented and paint that's easily chipped.
Check for proper operation of all remote key fobs, remote trunk and hatch release, and all power windows. Some owners reported failure of the Bluetooth module used to link their cell phones, so be sure that's in good working order, too.
Other mandatory feature checks should include: cruise control and all steering-wheel mounted controls.
Some owners note issues with their braking system, particularly relating to a loud "squealing" sound heard when reversing. This sound could be caused by use of a non-Mazda brake pad -- used models affected by this issue should be checked by a mechanic to be safe.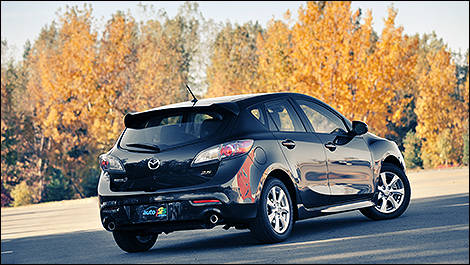 Photo: Matthieu Lambert
2013 Mazda 3