Press release
Source: Michelin
When snow, icy or wet roads and other extreme winter conditions make driving nearly impossible, drivers may have trouble maintaining control of their vehicles. To make driving safer and easier for utility van drivers in severe, challenging weather conditions, Michelin has introduced a new studded
tire
, the MICHELIN Agilis X-ICE North. The tire enables van drivers to safely overcome obstacles to winter driving while also generating cost savings thanks to its exceptional longevity and outstanding robustness.
The Michelin Agilis X-ICE North was developed to deliver superior performance in three key areas –
safety
, cost-effectiveness and robustness – with the goal of enabling utility van drivers to get where they need to go, even in the most difficult conditions, while also providing greater driving comfort.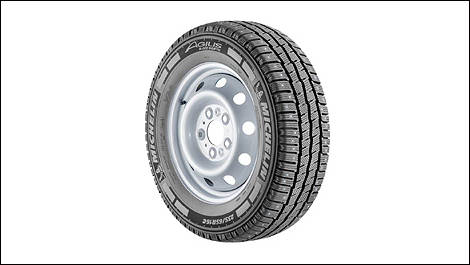 Michelin Agilis X-ICE North
Safer
: On icy surfaces the new MICHELIN Agilis X-ICE North significantly enhances resistance to tracing and ensures progressive responsiveness, while on snow it improves traction by 25%
1
.
More cost-effective
: The studs on the MICHELIN X-ICE North last 30% longer and increase total tire mileage by 20%
1
.
More robust
: The sidewalls on the new MICHELIN X-ICE North offer the same well-known resistance as those on the MICHELIN Agilis summer tire, while also reducing the impact of curb scrapes.
The tire's superior performance is based on a package of special technologies developed by Michelin. The MICHELIN Agilis X-ICE North's original tread design makes the vehicle easier to control while also enhancing driving comfort. In addition to its two additional rows of studs
2
for better grip on ice, the tire's three-dimensional StabiliGrip sipes provide optimal traction on wet, snowy and ice-covered surfaces. Moreover, Michelin's Durable Contact Patch technology expands the vehicle's footprint by putting more rubber on the road, thereby significantly increasing total mileage.
With the new MICHELIN Agilis X-ICE North, the tire maker has once again demonstrated its commitment to partnering with van drivers and utility vehicle fleet managers. As part of that commitment, the entire MICHELIN Agilis lineup has been revamped. The new summer versions were introduced in 2008, with two winter versions (studded and studless) brought to market one year later – the MICHELIN Agilis Alpin and the MICHELIN Agilis X-ICE North.
1 In-house tests with the Michelin Agilis 81 Snow Ice
2 Compared with the Michelin Agilis 81 Snow Ice studded tire
photo:
Michelin