The beautiful Jaguars are back
Ten-minute interview with Ian Callum, Design Director at Jaguar
We had the pleasure to meet Ian Callum at the 2008 Montreal International Auto Show, where the Jaguar XF made its Canadian debut. As Design Director at Jaguar, for whom he's been working the last eight years, Callum successfully rejuvenated the Jaguar XK and XKR. However, his main project has been the gorgeous XF sedan, which captures the spirit of the brand's founder, Sir William Lyons.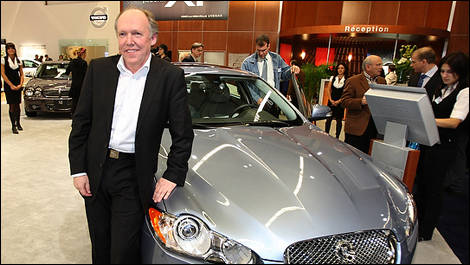 Ian Callum with the all-new Jaguar XF.
Auto123.com - Tell us about the evolution of styling at Jaguar...
Ian Callum - When I first arrived here, my opinion was that styling had not evolved fast enough. If you look back at pre-1970 automobiles, you'll notice how much the design changed over the years. With the passing of Sir William Lyons, things kind of stopped progressing. So our focus was trying to emulate what had been done in the past.
As for the core values of the brand, any self-respecting Jaguar must be sporty and have presence. These values do not change; they resist time. On the other hand, styling has to evolve and stay fresh. With that in mind, I started to imagine what Jaguars would look like if their creator was still alive. There was a giant leap to make.
I don't like drawing from old styles. I respect them and admire them for what they were, but you have to be able to innovate each and every day.
What inspires you? What are your influences?
I love sleek lines, so when I draw something, I want it to be very pleasant to look at. You can be creative, but the overall design has to be keen to the eye. My goal is not to shock people but to surprise them and amaze them. Each line must be perfect and have purpose.
The 1961 Mark II really inspired me. That car had taut lines and a sporty demeanor, not to mention a whole lot of presence. The challenge was to capture all that in a decidedly modern yet practical package. See how we incorporated a real trunk that's actually spacious? This is a first for Jaguar.