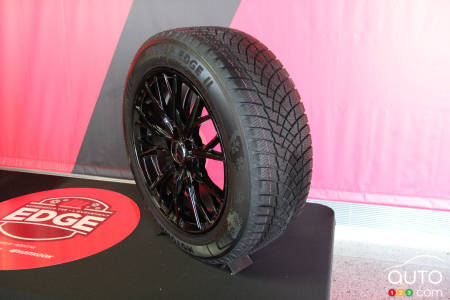 • We tested the new Winter Edge II tire from Motomaster.
• The tire will be available next fall.
Mirabel, QC - When tire manufacturers want to launch a new winter product, they invite journalists from around the world to special test events, with one overriding criteria: it must be cold and have snow and ice.
For example, about 15 years ago, the Italian giant Pirelli took us all the way to Argentina for its first-generation Sottozero. It was July and the tire was launching on the market that autumn. Argentina made sense then because in the South American country, it's winter in July; there was snow aplenty in the famed municipality of Ushuaia, the southernmost city in the world!
On occasion, Nokian has invited us to their home country of Finland. Michelin organized an event in China, Yokohama in Japan (on the island of Hokkaido in February) and Goodyear in Switzerland, as well as on in… Florida!
Yes, Florida. For the launch of a winter tire for light-duty due to launch in the following weeks, the American tiremaker welcomed us in a huge cold-storage building that had been used in the past to test planes and their engines. And this building was located on a military base in Florida!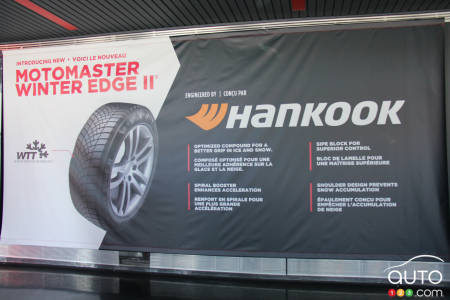 Canadian Tire and the Motomaster brand
This time, the winter tire being launched was from a big Canadian retailer. Canadian Tire is not a tire manufacturer as such, but according to Andrew Hannaford, Motomaster's product manager for tires and wheels, the large chain holds about 20 percent of the tire market in Canada, which is why it's important to stay active in the winter tire business.
Hannaford shared all this and more to us at a test event organized by Canadian Tire near Mirabel, Quebec.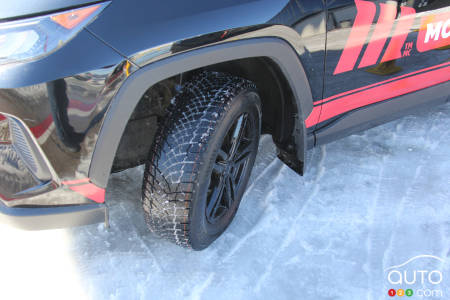 Partnership with Hankook
Of course, Canadian Tire does not have a dedicated tire manufacturing facility. So the company has to turn to "suppliers" who produce tires for it, with the company's brand name on them. In the past, Canadian Tire has teamed up with Goodyear and then Cooper Tire. This time around, Canadian Tire partnered with South Korean manufacturer Hankook for a brand-new product. Meet the Motomaster Winter Edge II winter tire.
Of course, this product had to be unveiled in Canada, because well, Canadian Tire. And, with the tire due to hit the market in late summer/early fall, there was some urgency to getting them onto vehicles and into the hands of journalists. Already, the milder temperatures of spring are beginning to announce themselves.
Canadian Tire chose the ICAR circuit north of Montreal in mid-February to present its new product and have specialists test it.
The all-new Motomaster Winter Edge II is the logical follow-up to the original Winter Edge launched in 2017. The Winter Edge II is a quality tire, what is known in the trade as a "Tier One" tire, along with products such as Michelin X-Ice One, Bridgestone Blizzak and Nokian Hakkapeliitta.
Its most interesting feature? It should be more than competitively priced!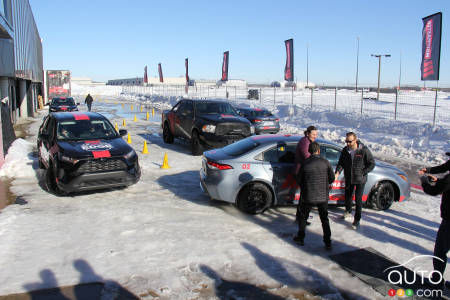 The tire
Basically, the Winter Edge II is a directional winter tire whose tread has been specifically designed to provide the best possible grip. You can see that the V-shaped tread is designed to have multiple siped blocks, again to achieve great grip, especially on ice. Snow accumulation is minimized thanks to the wide groove shoulder design.
The Winter Edge II will be available in 46 wheel sizes ranging from 14 to 20 inches for cars, SUVs and crossovers with speed ratings of T (190 km/h or 118 mph) and H (210 km/h or 130 mph), which is expected to be suitable for some 70 percent of winter vehicles in Canada.
Canadian Tire says the tire has been tested both here and elsewhere, including Sweden. Since it's a soft-compound tire (which should last at least five to six winters, according to the brand's representatives), there's no need to offer it with the option of studs.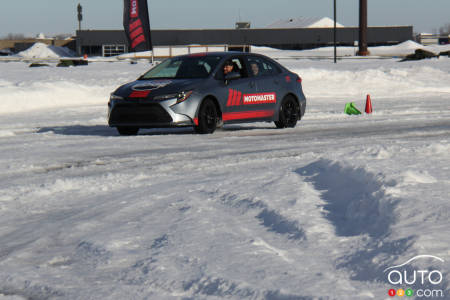 On the track
Of course, presenting a tire at a press conference is one thing, but nothing beats a first contact on the road… or on a track. To this end, Motomaster reserved the ICAR oval circuit (on the grounds of the Mirabel airport). The instructors specialized in the field created a specific track on its snow and ice base with a slalom section, a braking area, a skidding curve, a straight line with a sudden lane change and a final deceleration curve.
The organizers provided us with popular vehicles on the market: Toyota RAV4 AWD SUVs and Toyota Corolla FWD cars. In addition, participants were each accompanied by an experienced driver to guide them through the experience.
In my case, I was first accompanied by a certain James Hinchcliffe, IndyCar driver with several victories to his credit.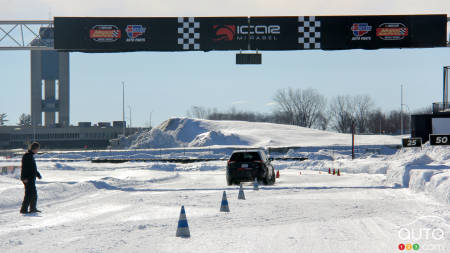 From my first contact with the wheel, I was able to attack the slalom with ease, the tires responding very well to the steering commands. The new tire was already impressing! Braking performance was also convincing, especially since the snow was still fresh, which helped with the grip.
In the curve, I felt interference from the stabilization system of the vehicle as it sought to correct its behavior. I stopped and deactivated the system and that's when we were able to obtain more precise data on the tire's grip in snow and ice.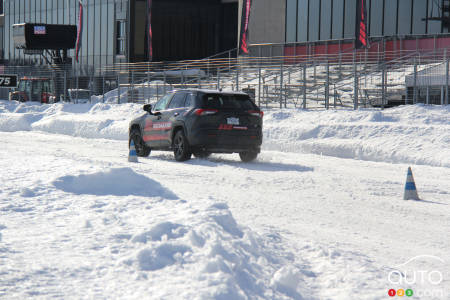 My first impressions? I was certainly not disappointed. One thing's for sure: despite the fact we didn't have a competing product to compare it to, I think I can say that the Motomaster Winter Edge II will really be up to the task.
After several laps around the track and some pushing of limits (without ever finding myself off the track, I should point out), even in the most modest Corolla, I would not hesitate to recommend this tire for next winter.
One thing I could not verify was the quietness of the ride since we did not have occasion to drive the vehicles on the highway. However, I'm confident that with such a tread pattern and soft rubber, this Motomaster will be quiet on dry pavement.
Now all we have to do is wait until next fall to really put this tire to the test. However, I think we can agree that that can wait, right?