Auto123.com presents its winter tire buying guide for 2023-2024. Today, a summary of the current state of affairs in winter tires. Tomorrow, the best winter tires for cars and small SUVs. Saturday, the best winter tires for SUVs and pickup trucks!
See also: Guide to Winter Tires in 2023-2024: Lots of Choice, and Choices to Make
See also: The Best Winter Tires for Cars and Smaller SUVs in 2023-2024
Before we get into the thick of it, some relevant information about winter tires for SUVs and pickups:
It's no secret that cars have long since given up market leadership to SUVs and light-duty trucks, notably pickups. In the past, pickup trucks came by default with tires that were as sturdy as they were inelegant. They also tended not to offer outstanding performance – mainly because pickups of the time weren't made to offer that performance. Suffice to say, that's changed!
We should mention that pickup trucks here generally get their own types of tires, whereas SUVs and crossovers often run on tires similar to automobile tires – just bigger. In this case, it's worth noting that most of the tires discussed in our car tire buying guide can also be used on these vehicles.
Meanwhile, an increasing number of manufacturers are offering pickup trucks equipped with more robust tires for off-road excursions (even if few owners will ever venture that far off the pavement...). As you'll have gathered, we're talking about models like the Jeep Wrangler Rubicon and Gladiator Moab, Chevrolet Colorado Bison, Ford F-150 Tremor and Transit Trail, Mercedes-Benz Sprinter 4x4 and others fitted at the factory with aggressively designed tires for off-road use.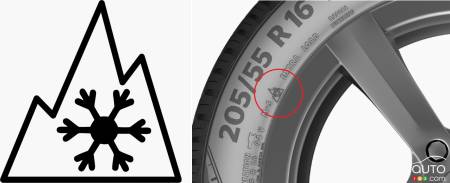 If you own such a vehicle and it has such tires, it's a good idea to have them inspected by a tire specialist to check that they are suitable for winter use.
(Remember, in some parts of the country, only tires bearing the emblematic winter logo depicting a mountain silhouette with a snowflake in the centre are permitted in winter).
It's also worth repeating that genuine winter tires offer better grip on snow and icy roads than off-road tires.
Incidentally, if your truck is an F-250 or 2500 (Econoline pickup or van), you'll need to look into the more robust LT (light truck) tires (which perform a little less well).
Lastly, the scarcity of all-new products in the tire domain right now means that if you're looking for an in-depth summary of what's available on our market from the big, trusted brands, you can consult our winter tire guide, 2022-23 edition, which describes most of the better tires available in Canada.
See: The Best Winter Tires for Larger SUVs & Pickup Trucks for 2022-2023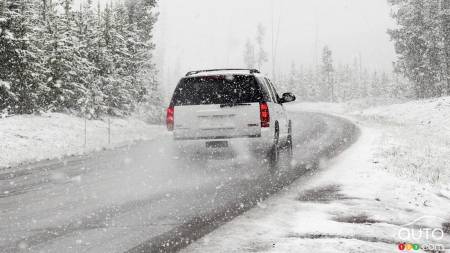 Nokian Hakkapeliitta R5 and Outpost
As is the case for cars and lighter vehicles, Nokian tires are, in our opinion, at the top of the list of the best winter tires. We recommend the new-generation Hakkapeliitta R5, which replaces the highly efficient R3 and is superior to the old Rotiiva line for winter use.
However, if you're looking for a tire with a more aggressive tread pattern, consider the Nokian Outpost. This tire was originally produced in Russia but, given certain recent events, they are now made in Tennessee and now carry the Outpost nAT designation. I've had them on my Jeep TJ for some time now and can confirm that they're just as effective on cold or wet pavement, in off-road situations and especially in deep snow, which is what many 4x4 users are looking for. They're also competitively priced. The Outpost is also an tire certified for use in all seasons, including winter.
See also: Nokian Presents its New Hakkapeliitta 10 Tire for Next Winter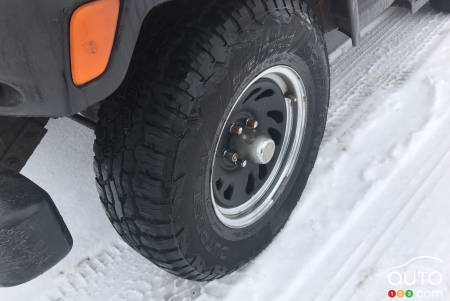 Michelin X-Ice Snow SUV and BFGoodrich T/A KO2
In the tests we carried out, Michelin's X-Ice Snow winter tire proved to be very effective in winter (much better than the old X-Ice 3). I tried them on my Lincoln MKZ and was very satisfied. They are now available in SUV, crossover and light-duty truck versions.
This SUV version of Michelin's tire uses the same rubber, pattern and design as the X-Ice Snow for cars, the main difference being that the "body" of the tire has been strengthened to adapt it to the higher weight of the vehicle. Certainly recommendable.
Did you know that BFGoodrich is part of the Michelin Group? This manufacturer (of American origin) offers pickup truck owners its T/A KO2 tires, available in certified winter and summer versions. Reasonably priced, they're also very popular. They're even very capable in off-road situations!
See: BFGoodrich T/A K02 Tires Review, Part 1: All-Terrain Tires, All Year 'Round? Discuss
See: BFGoodrich T/A K02 Tires Review, Part 2: A Winter, Survived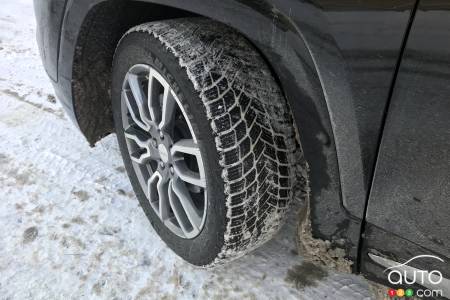 Goodyear and Cooper
American manufacturer Goodyear has become a specialist in the production of light-duty truck (and larger truck) tires of all calibers, and offers several interesting products tailored to different uses. For example, off-road enthusiasts should take a look at the Wrangler All-Terrain Adventure with Kevlar tires, which are approved for all four seasons. I've been using these tires on my personal Jeep for several years, with great satisfaction. They're also relatively quiet.
If you prefer to fit your SUV with real winter tires, we can recommend the Goodyear Wintercommand Ultra, a studless winter tire that performs very well on icy roads.
For more rugged vehicles (especially commercial ones), Goodyear offers the Wrangler DuraTrac with very aggressive tread for mud and snow. It's even available with studs for icy roads.
Goodyear only recently completed its purchase of American manufacturer Cooper, enabling it to market second-tier-quality tires at a good price. Goodyear engineers are currently working on a major improvement in the construction of Cooper tires, but we'll have to wait a little longer before seeing the full results. Note that some Cooper models have already been relaunched with improvements.
At present, the Cooper Discoverer Snow Claw winter tire could be a good choice, especially as it is available with studs.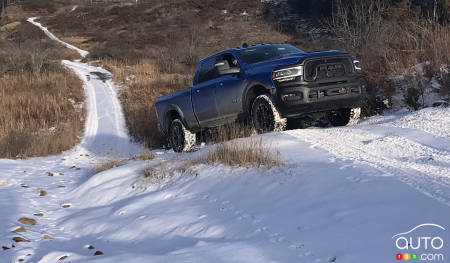 Bridgestone Blizzak LT and W695 and Firestone Winterforce LT
It's easy for us to recommend the LT versions of Bridgestone's Blizzaks (SUVs, crossovers and light pickups can be fitted with the appropriate Blizzak WS90s). These are excellent winter tires, especially on icy roads. The W695 version is mainly intended for commercial vans.
Bridgestone also markets a second-tier tire, the Firestone Winterforce, available in LT or studded versions.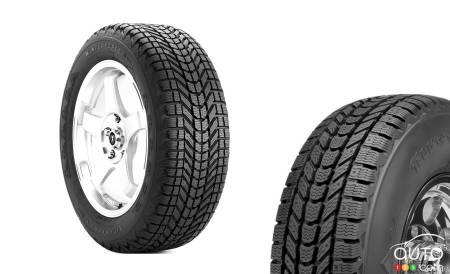 Pirelli
Of course, we can't forget Italian manufacturer Pirelli. Its most popular winter tire remains the Scorpion Ice & Snow (I had a set of these on my own Jeep for a few years and they proved very effective, especially on icy roads), but you'll have to pay extra. It's a top-of-the-range tire with a main characteristic is that it's quiet.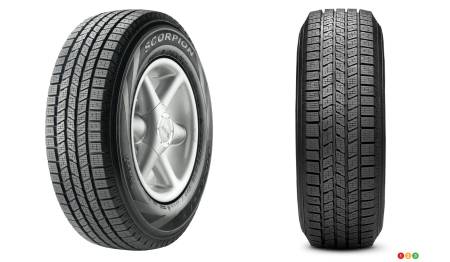 Several other brands
If you take a look at our guides from previous years, you'll see that several brands and models have been renewed for 2024. I was able to draw some interesting conclusions from driving on tires such as the Toyo Observe GSi-6 in LT version or Open Country including the WLT or A/T III, but the latter are more intended for off-road excursions or deep snow. Think again if you're looking for more of a general-use tire!

Yokohama Geolandar tires have also been the subject of longer-term testing, including the A/T G015 version, but again, be aware that this type of tire is also a winter/summer approved off-road tire. This may not be what you're looking for if you do a lot of driving. However, if you live in a snowier northern region, this would be a good choice to consider.
Many other brands offer tires for vans. These include Hankook with its Dynapro I*cept, I*Pike RW11 and, above all, the studless RW10 Winter I*cept X designed for icy roads. And let's not forget Lauffen with its I FIT Ice (this product is a second-rate tire, a by-product of South Korean manufacturer Hankook). Another tire from the same source, the Kumho Road Venture AT52, is also available.
In a more affordable niche, a lot of the feedback tells us that GT Radial is becoming increasingly popular with its Adventurer AT-AW (manufactured in various parts of the world, including South Carolina).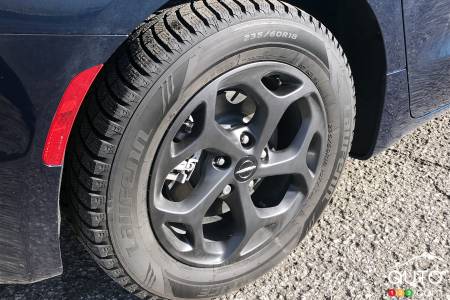 Other lesser-known products are out there, among them the Falken Rubitrek AT Wildpeak, General Altimax Grabber AT-2, Nexen Grappler and the recently launched Roadian HTX2. Again, their lack of fame doesn't mean they aren't good quality (Falken is owned by Japanese giant Sumitomo, but some products are made in the U.S., while General is the second-tier brand of German Continental; Nexen originates from South Korea).
Note that many of these tires are intended for off-road excursions, and that they are often of the homologated variety (thus certified for use in all seasons).
Finally, the new Motomaster Edge II winter tire (produced by Hankook for Canadian Tire dealers) should be available in an HD version for light trucks.
See: Motomaster Winter Edge II Tires Review: We Test the New Tire on Snow and Ice
Lastly, once again, you need to be careful with lesser-known brands or those that have just arrived from Asian countries, but which have not yet proved their worth. Moreover, their prices are often close to those of tires of recognized quality. They're not necessarily a bargain!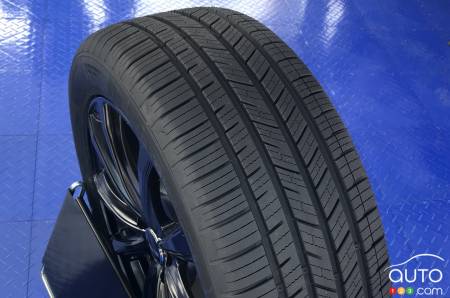 The final word
Most of our short-term and long-term tests were carried out with tires from major brands. Finding the "ideal" winter tire is mostly a matter of collecting the right information. Not that you should just walk into a dealer's shop and ask for "the best winter tires at the best price", because there's no one answer to that. Each product has its own qualities and imposes its own "compromises".
If you haven't made your choice yet, don't hesitate to ask the tire technician questions. Chances are, with a little experience, they'll have built up a wealth of knowledge through the experiences shared by his customers. They'll know how to answer your questions...
Once again, I'd like to thank a number of different informed sources for providing me with information on their customers' tires, and especially the team at Pneus premier Choix in Laval, Quebec (most notably Étienne) for their help with my research.