• Mini is at the Munich Motor Show to present two electric models, including the 2025 Countryman (E and SE).
Media day at the Munich Motor Show is on Monday, September 4. However, some manufacturers are jumping the gun and previewing new models set to debut there. Mini, for instance, has unveiled two electric models, the 2025 Mini Cooper and 2025 Mini Countryman electric variants.
The latter is getting its first introduction, in two configurations, Countryman E and Countryman SE All 4.
First notable detail about the model is its larger format. The Countryman is 5.1 inches longer, 2.4 inches higher and 0.8 inches wider than previous. Its wheelbase is longer, too. Consider it roughly the size of the Kia Niro.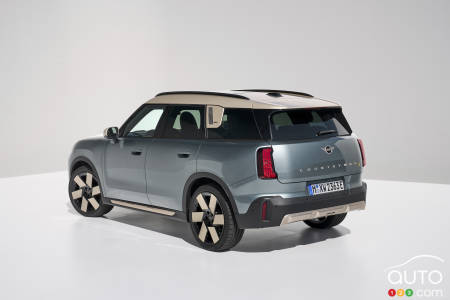 The base E version is equipped with a single electric motor developing 204 hp and 184 lb-ft of torque, enabling it to clear 0-100 km/h in 8.6 seconds. The sportier SE variant uses two electric motors to provide all-wheel drive. Power comes to 313 hp and 364 lb-ft of torque. This time, we're talking about a 0-100 time of just 5.6 seconds.
Both models use a 64.7-kWh battery. Maximum recharging capacity is rated at 130 kW, which should boost energy levels from 10 to 80 percent in under 30 minutes. At home, capacity can go up to 22 kW if you have the right equipment, for faster recharges.
The E and SE models officially deliver 461 and 433 km of range respectively, in Europe. This is calculated on the basis of the European WLTP cycle, which is about 20 to 25 more generous than the EPA (Environmental Protection Agency) cycle. We can therefore expect around 350 km and 325 km in North America, at worst.
Mini promises a model as pleasant to drive as ever, thanks to a suspension tuned for engaged driving. As an option, buyers will even be able to opt for an adaptive suspension that lowers the model by 15 mm. 17-inch wheels come as standard, but there's an option for wheels up to 20 inches.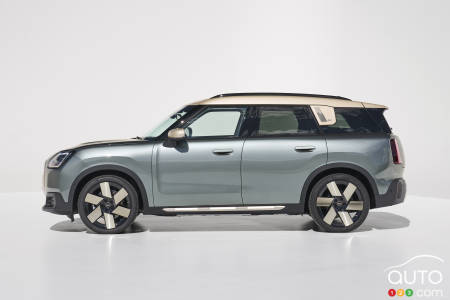 Design of the 2025 Mini Countryman
Here, the images tell the story. The Mini style is clearly recognizable, but sharper shapes add character to the model. The sleeker layout has helped to reduce the drag coefficient from 0.31 cx to 0.26 cx.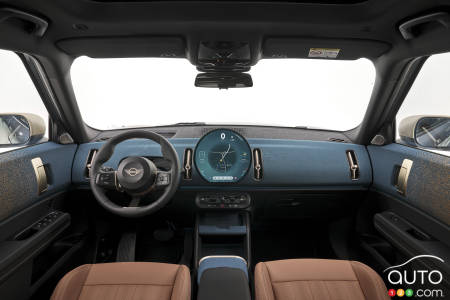 The interior is also uncluttered, with a very smooth dashboard cut by four vertically arranged air vents. Tradition holds with the round central screen still present. Mini says it is using more "ecological" materials. When time comes to drive the model, we'll have a better idea of the additional space promised in the second row, as well as in the cargo area.
Likewise, everything to do with equipment and safety remains to be announced. There will surely be differences between the North American and European versions; and since the model is due only for 2025, certain elements may yet change.
Regardless, we now know what the next Mini Countryman looks like. And this electric version will also be accompanied by a gasoline-powered version, to be presented at a later date.