Quebec stock-car racer Andrew Ranger will take part in another NASCAR Canadian Tire Series' event on Sept. 1st at the Canadian Tire Motorsport Park for the Silverado 250.
Ranger, in two races so far this year in NCTS, has one victory and one second-place finish. The Roxton Pond, Qc. native will once again team-up with Ray Junior Courtemanche and will drive the second car sponsored by La Cité de Mirabel.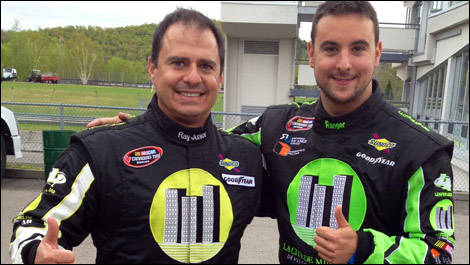 Ray Junior Courtemanche and Andrew Ranger (Photo: La Cité de Mirabel Inc.)
During that week-end, Ranger was supposed to take part in an ARCA Series race but is car was seriously damaged during trials in Illinois and his team has decided to skip the event.
The team will hit the track Saturday August 31st for practice and qualifications while the Silverado 250 will be un on Sunday September 1st.