The second running of the NASCAR Camping World Truck race at Canadian Tire Motorsport Park -- Chevrolet Silverado 250 --will be staged this weekend.
The race will feature rounds of the Camping World Truck, the Porsche GT3 Cup Canada, the NASCAR Canadian Tire series and the Canadian Touring Car Championship.
For more information about this exciting event or to purchase tickets, make sure to visit:
www.mosport.com
.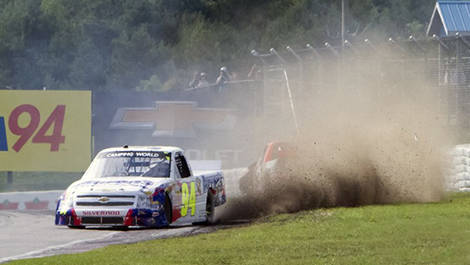 Last moments of the 2013 Chevrolet Silverado 250 (Photo: Philippe Champoux)
Chevrolet Silverado 250 Weekend*
Friday, August 29, 2014

7:00 am - 9:00 pm - Canadian Tire Motorsport Park Registration
12:00 pm - 2:00 pm - Porsche GT3 Cup Canada Test Session
2:00 pm - 3:00 pm - LUNCH
3:00 pm - 3:30 pm - Porsche GT3 Cup Challenge Canada Practice #1
3:45 pm - 4:15 pm - Canadian Touring Car Championship Practice #1
4:30 pm - 5:00 pm - Porsche GT3 Cup Challenge Canada Practice #2
Saturday, August 30, 2014

7:00 am - 4:00 pm - Canadian Tire Motorsport Park Registration
8:00 am - 8:30 am - Canadian Touring Car Championship Qualifying
8:45 am - 9:15 am - Porsche GT3 Cup Challenge Canada Qualifying
9:30 am - 10:30 am - NASCAR Camping World Truck Series Practice #1
10:40 am - 11:25 am - NASCAR Canadian Tire Series Practice #1
11:35 am - 1:00 pm - NASCAR Camping World Truck Series Practice #2
1:10 pm - 2:00 pm - NASCAR Canadian Tire Series Practice #2
2:00 pm - 3:00 pm - LUNCH
3:00 pm - 3:45 pm - Porsche GT3 Cup Challenge Canada Race #1
4:00 pm - 4:30 pm - Canadian Touring Car Championship Race #1
4:40 pm - 5:00 pm - NASCAR Canadian Tire Series Qualifying – First Session
5:05 pm - 5:25 pm - NASCAR Canadian Tire Series Qualifying – Second Session
5:40 pm - NASCAR Camping World Truck Series Qualifying
Sunday, August 31, 2014

7:00 am - 3:00 pm - Canadian Tire Motorsport Park Registration
9:00 am - 9:30 am - Canadian Touring Car Championship Qualifying
9:50 am - NASCAR Canadian Tire Series Driver Introductions
10:00 am - 11:45 am - Pinty's presents the Clarington 200
(NASCAR Canadian Tire Series) 200 km

12:00 pm - 12:45 pm - LUNCH
1:00 pm - NASCAR Camping World Truck Series Driver Introductions
1:30 pm - Chevrolet Silverado 250
NASCAR Camping World Truck Series Race (64 Laps)

4:15 pm - 5:00 pm - Porsche GT3 Cup Challenge Canada Race #2
5:15 pm - 5:45 pm - Canadian Touring Car Championship Race #2
* Schedule Subject to Change