While the new 700-horsepower Porsche 911 GT2 RS has made headlines since launching in 2017 as the most powerful and fastest production 911 ever, the GT3 RS edition is now getting proper love through a series of major upgrades that are sure to impress.
The world premiere will take place at the Geneva Motor Show next week.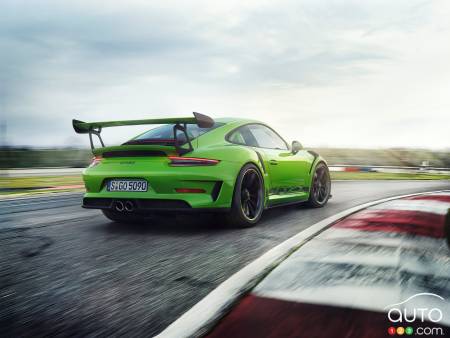 Based on the 911 GT3 and blessed with a motorsport chassis, this new RS houses the most powerful naturally aspirated engine in a production 911, namely a 4.0L flat-6 engine that produces 520 horsepower (20 more than the outgoing model) with the help of a specially programmed 7-speed PDK transmission. Acceleration from 0-100 km/h takes just 3.2 seconds and top speed is rated at 312 km/h. Yeah.
In terms of handling, 20-inch lightweight wheels with newly developed 265/35 sports tires up front enhance agility and steering behaviour, while 21-inch wheels with 325/30 tires at the rear improve traction. What's more, the recalibrated rear-axle steering system allows for maximum dynamics and precision.
Aerodynamics have guided the design of the wide, weight-optimized body with its classic rigid rear wing. The racing look continues into the interior with full bucket seats made of carbon to provide secure lateral support in response to high-level driving dynamics. Lightweight door panels with storage nets and pull straps, reduced sound absorption and the new lightweight rear lid further emphasize the consistency of the material choices.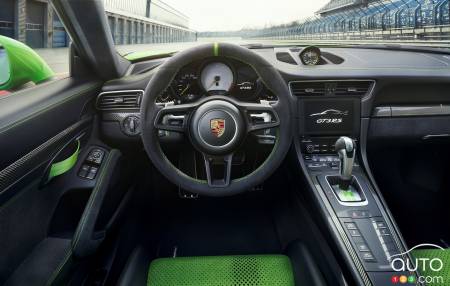 There's also an available Weissach package created by the Porsche motorsport department for a further weight reduction. It features additional carbon components for the chassis, interior and exterior, as well as optional magnesium wheels. In its lightest configuration, this package reduces the weight of the 911 GT3 RS down to 1,430 kilos.
One last figure that makes a big statement is $213,400. That's the base price of the new 911 GT3 RS, which can be ordered as of today in Canada. Deliveries will start later in 2018.