The first quarter of 2019 saw vehicle sales drop across the industry. Most analysts are nonetheless giving the automotive sector a good bill of health. That said, there are storm clouds on the horizon, in the form of ever-growing inventories of unsold stocks sitting at North American auto dealerships.
As of the beginning of April, there were 4,188,200 vehicles all told sitting in inventory at dealerships. This is the highest total in two years, and it is getting close to the all-time high of 4,302,500 units recorded in May 2004.
For the moment, analysts say the manufacturers have yet to feel the pain from this situation. Things are less rosy for car dealerships, however. The more unsold stock these dealers have on their lots, the more their operating budgets are affected. Then there's the question of interest rates charged on the money owed on these unsold vehicles.
According to Marc Ray, co-owner of two FCA (Fiat Chrysler Automobiles) dealerships in Toledo, Ohio, "You can afford to make a lot of mistakes when your floorplan interest rate is only 1.5 or 2 percent, but the room for error grows a lot tighter when you're paying 5 or 5.5 percent." Speaking to Automotive News, Ray added that his business' carrying costs have increased by $500,000 already this year.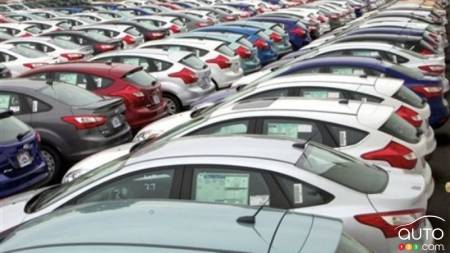 The numbers cited here concern the United States, but it's more than likely that Canadian dealerships are experiencing the same reality in 2019 as well.
At present, the majority of the unsold stocks consists of vehicles produced by the Big Three American manufacturers. General Motors has 835,000 units of unsold stocks sitting at dealerships, while Ford has 715,600 and FCA 666,700. Behind them, Toyota has 464,900 vehicles in inventory at dealers and Honda has 430,400 units.
If the surplus in unsold inventories continues, automakers will have no choice but to begin offering substantial incentives to move those units off of dealer lots. Which would be great news for consumers, but not so much for manufacturers that would see their profit margins take a hit.
A situation worth keeping an eye on…