I recently watched an episode of one of my favourite motoring television shows,
Top Gear
. On this particular episode, they talked about the brand new Porsche 911. James May was behind the wheel and spewing out technological stats left, right and centre. Most notably, he brought up the fact that the new
Porsche 911
has electromechanical power steering, which 911 enthusiasts the world over are lamenting.
Why?
Because, according to James May (and I'd bet a fair number of diehard Porsche fans), this new bit of kit is taking away from what driving a 911 "feels" like. Sure, it makes things easier and safer, but it detracts from the experience -- an experience you paid a pretty penny for.
So, May came up with a solution: Don't buy a new 911; get an old one instead. Specifically, a Singer Porsche 911.
What is a Singer Porsche? Well, for starters, it's a work of art. Stunning to behold, the Singer 911 is a fully restored early '90s Porsche 911 coupe that's been modified to each customer's specifications. Maintaining the car's original body style, shape and design, Singer inserts carbon fibre in various areas and adds a speed-sensitive rear spoiler in the classic '73 "ducktail" design that lifts when driving at 60 mph or faster.
You can choose from two engines in your Singer Porsche 911: a 3.6L or a 3.8L. Each is hand-built using new components. You can also choose between 5-speed and close-ratio 6-speed transmissions, which are rebuilt with new components as well.
So, what about that steering? Well, I figured Singer said it best: "The steering on the 964 model 911s has long been heralded as one of the finest in existence, and we retain this hydraulically power assisted rack-and-pinion system."
Of course, customization inside is endless, from the leather you prefer to the types of knobs you want on the dash. This truly becomes your 911. And while it might look to be a few decades old, it will be absolutely brand new. The Singer Porsche 911 is as bespoke as they come.
In my opinion, your Singer 911 will have so much more personality and charisma than a 2013 Porsche 911 parked in your driveway. What Singer has done is take the spirit of the 911 and everything the car stands for, and raise it to a level akin to a classic work of art.
Singer's entire strategy is based on embracing and showcasing everything that Porsche built its reputation on, from the classic silhouette right down to the 17" '60s-era Fusch wheels (which can even be ordered with either closed lug nuts or extended wheel studs and open brass-plated aluminum lug nuts and without centre caps for a more track-inspired look).
The intense detail that goes into a Singer Porsche 911 is extraordinary and makes you sit back and realize how cookie-cutter even the most "original" new cars are nowadays. You think you're stepping out from the crowd by purchasing your new 911 with colour-matched seatbelts and customized interior detailing, but you're not: It's just another car in the lineup of today's vehicles.
If you're in the market for a new Porsche 911 because of the history of the brand and what it means to drive a Porsche, consider a Singer 911. Sure, it costs nearly twice as much as a brand new
Porsche 911 Turbo S
, but I think it's well worth it.
Now the question becomes: How do
I
get behind the wheel of one?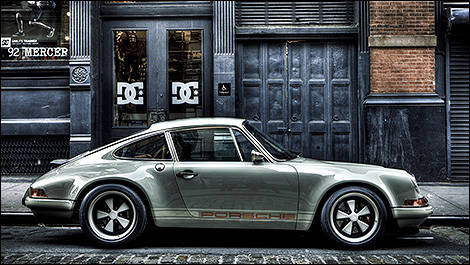 Photo: Singer Vehicle Design